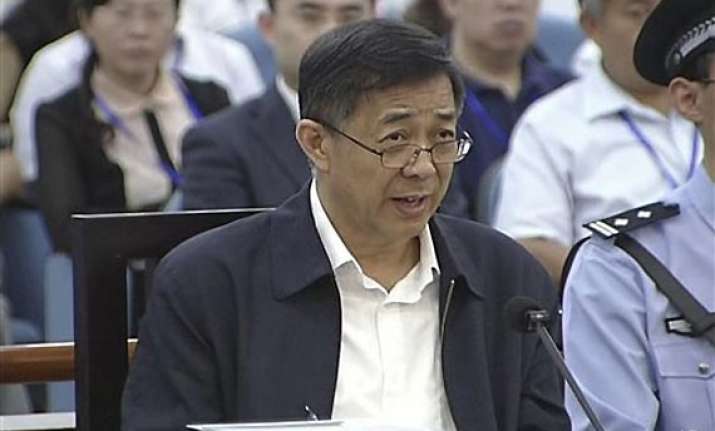 Beijing: China's biggest political trial involving disgraced leader Bo Xilai ended today after five dramatic days of hearing, as the prosecution demanded that the former Communist Party strongman be given "severe" punishment for the "extremely grave" crimes committed by him. 
The first-instance trial of 64-year-old Bo, charged with bribery, embezzlement and abuse of power, concluded at the Jinan Intermediate People's Court in east China's Shandong province today, state-run Xinhua news agency reported.  
The court will pronounce the verdict at a date to be decided, it said. Speculation is rife that Bo may get a suspended death sentence like his wife.
As the trial resumed for the fifth day today, the prosecution which wrapped up its case against the fallen politician called for serious punishment for him.  
"The defendant's crimes are extremely serious. He pleaded not guilty to the charges, and there are no extenuating circumstances suggesting lighter punishment. It must be dealt with severely according to the law," a prosecutor said.  
A charismatic Bo, widely expected to be a front runner for a top post in the once-in-a-decade leadership change of the ruling Communist Party of China, was sacked last year as the Party head of over 20 million people strong Chongqing city as well as Party's highest policy making body - the Politburo.  
The "open trial", which drew immense interest in China and around the world, has gone on for unprecedented five days during which Bo refuted all charges while accepting mistake and partial responsibility for some money transfers and escape of top police official to US Consulate to escape his wrath.  
The prosecution, which presented several witness including testimony of Bo's wife Gu Kailai and ex-police chief of Chongqing city Wang Lijun, said sufficient evidence has been provided against the former strongman.  
The whole court investigation phase of this case was completed after three and half days of trial.  
At yesterday's hearing, the prosecution and defence cross-examined the testimony that Wang Lijun, ex-police chief of Chongqing Municipality, gave at the court on Saturday on the charge of power abuse against Bo.
Prosecutors also presented more evidence during the trial, regarded as the most sensitive after the 1981 'Gang of Four' trial' involving Mao Zedong's widow.  
In the previous days of trial, prosecutors also accused Bo of accepting bribes from businessmen Tang Xiaolin, general manager of Dalian International Development Co. Ltd, and Xu Ming, chairman of Dalian Shide Group Co. Ltd. and embezzling 5 million yuan from a government project.