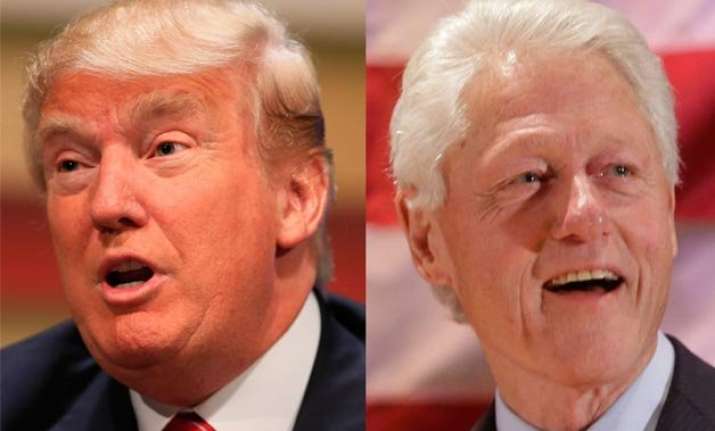 Washington: Intensifying the verbal tirade on Democratic Presidential hopeful Hillary Clinton, Republican presidential frontrunner Donald Trump has targeted her husband and former President Bill Clinton dubbing him as the "greatest woman abuser of all time".
"During the course of the debate and many other times, she [Mrs Clinton] used the word 'sexist,' I'm sexist." She was using some very derogatory terms. How the hell can she do that when she has one of the great woman abusers of all time sitting at her house, waiting for her for dinner?" Trump told CNN.

Mr Trump's outburst follows earlier comments against Mr Clinton, saying he had a "penchant for sexism".Mr Trump has been accused of sexism himself. He has said that Muslim women wear the headscarf to avoid putting on make-up.
Earlier Trump had alleged that US President Barack Obama and former Secretary of State Hillary Clinton's policies "created ISIS"
"They've created ISIS. Hillary Clinton created ISIS with Obama," Trump said recently.
Trump and Clinton have been involved in a war of words in recent weeks.
Clinton had slammed Trump's recent comments about banning Muslim immigrants, saying the Republican front-runner was "becoming ISIS's best recruiter".
"He is becoming ISIS's best recruiter. They are going to people showing videos of Trump insulting Islam and Muslims in order to recruit more radical jihadists," she had said.
Trump dismissed Clinton's assertion that the Islamic State was using his videos as a recruitment tool saying she is "a liar" and "made up" the claim
Trump called in an advert for a temporary ban of Muslims from the US due to recent Islamic extremist activity, and has also demanded that the Mexicans pay for a wall to block Muslims from the country.