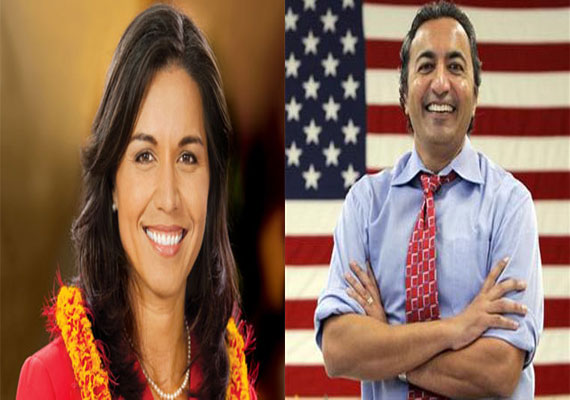 Washington, Jan 4: Indian American physician from California, Ami Bera, and the young Iraq war veteran from Hawaii, Tulsi Gabbard, created history yesterday after being sworn in as new members of the US House of Representatives.
Bera is only the third Indian American -- after Dalip Singh Saundh in 1950 and Bobby Jindal in 2005 -- to have ever been elected to the House of Representatives.
Tulsi Gabbard is the first Hindu ever to win the Congressional election.
The 113th Congress has 43 African American members (all but one in the House of Representatives), a record high number of 100 female, seven LGBT members, and one member of Kennedy family returning to elective federal office after a brief pause from public service from the family.
Both Bera and Tulsi are from the Democratic Party.
Bera took the oath in presence of his family members, including his wife, his daughter, brothers, and his father.
A number of eminent Hindu Americans from across the US attended Tulsi's swearing in.