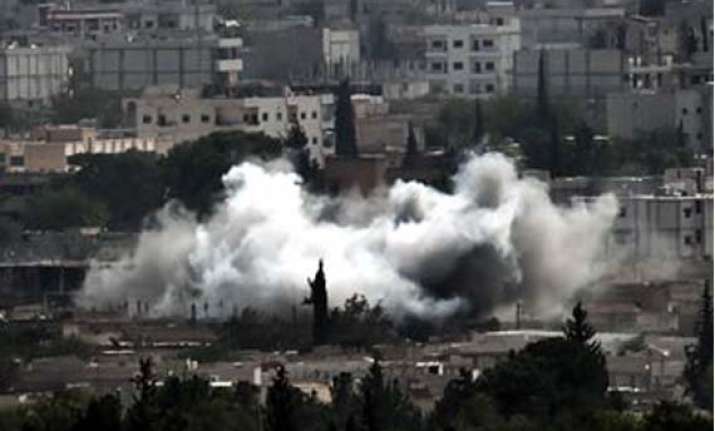 Mursitpinar (Turkey): Kurdish and Iraqi forces fought to hold back advancing jihadists on the Syria-Turkey border and near Baghdad Wednesday as Washington pushed to rally its allies against the Islamic State group.  
In the Syrian town of Kobane on the Turkish border, Kurdish fighters backed by a flurry of US-led air strikes were reported to have stopped IS fighters from gaining more ground and had even recaptured some positions.  
US Central Command said American aircraft struck the jihadists with 18 raids near Kobane yesterday and today, hitting 16 buildings occupied by the group.  
In Iraq, pro-government forces beat back an hours-long jihadist attack on a key city west of Baghdad, while reinforcements reached a strategic town threatened by militants.
But US military officials warned yesterday that IS had the "tactical momentum" and President Barack Obama was to hold a video conference with the leaders of Britain, France, Germany and Italy to discuss the IS threat.  
Obama told military chiefs from more than 20 allies yesterday they are facing a "long-term campaign" against IS.  
"There are not quick fixes involved. We're still at the early stages," Obama said after the talks in Washington.  "As with any military effort, there will be days of progress and there are going to be periods of setback," he added.
Obama's call with European leaders was to start at 1500 GMT (1930 IST) and last about an hour, with the Ebola epidemic and peace efforts in Ukraine also on the agenda.  
Obama has expressed special concern for Kobane, which has become a symbolic battleground in the fight against IS, and about halting the IS advance in Iraq's western Anbar province.  Fresh US-led strikes could be seen hitting IS positions in Kobane on Wednesday, an AFP reporter across the border in Turkey said.
A monitoring group said fighting was concentrated on the former Kurdish military headquarters in northern Kobane which IS seized Friday.
The Britain-based Syrian Observatory for Human Rights said Kurdish forces had retaken two IS positions near the headquarters and pushed the jihadists from several streets to its west, but IS fighters appeared to remain in control of about half the town.
Turkey, a NATO member, has stationed troops, tanks and artillery along the border—in some cases only a few hundred yards from the fighting—but has not intervened.  
It also has yet to allow US jets to mount attacks from its territory and complicated issues yesterday by bombing Kurdish rebel targets in the southeast of the country.