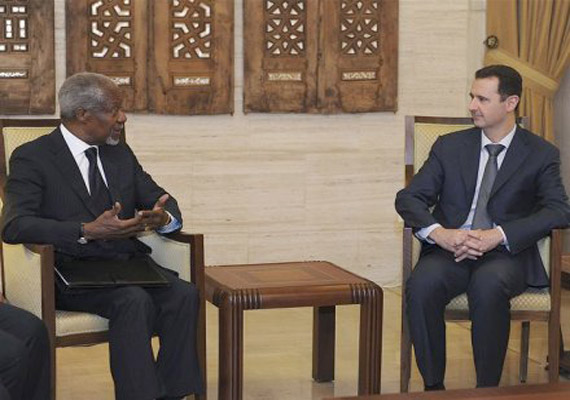 Damascus, Mar 30: President Bashar al-Assad has vowed to work to make a success of envoy Kofi Annan's peace plan, state news agency SANA said on Thursday , as Arab leaders urged dialogue and an end to Syria's bloody crackdown on dissent.
Assad, however, stressed the UN-Arab League envoy's plan would succeed only if "terrorist acts" backed by foreign powers stopped across the country, the agency said.
"President Assad... has informed Annan that Syria approves the plan (the envoy) submitted but had made remarks about it," and pledged he would "spare no effort" to make it work, SANA reported.
It said Assad's remarks were made in a message to the world's emerging powers meeting Thursday in New Delhi.
Annan's plan calls for a halt to violence, daily two-hour humanitarian truce, media access to areas of fighting, for political dialogue, the right to demonstrate and the release of detainees.
The United States was unimpressed by Assad's comments.
"We've seen absolutely nothing on the ground that indicates that they're adhering to its calls for Syrian artillery and heavy weaponry to go back to barracks and for a ceasefire," said State Department spokesman Mark Toner.
"We want to see an end to the violence as soon as possible so that we can get humanitarian assistance in to the beleaguered Syrian people," he said.
A UN spokesman, meanwhile, said at the end of a Syrian government-led assessment mission to the country that at least one million Syrians needed humanitarian assistance.
Eight UN experts and three from the Organisation of Islamic Cooperation (OIC) took part in the tour which ended on Monday.