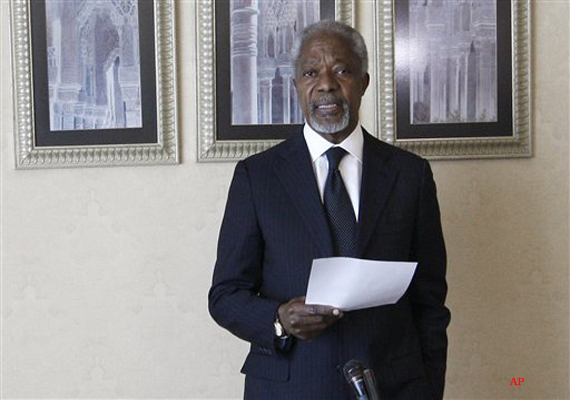 Damascus, Mar 12: Peace envoy Kofi Annan emerged optimistic on sunday from talks with President Bashar al-Assad but warned of a "tough" mission to end bloodletting in Syria, even as soldiers were pounding a rebel bastion.

"It's going to be tough, it's going to be difficult, but we have to have hope. I am optimistic," the UN-Arab League envoy told reporters at the end of his second round of talks in Damascus with Assad.

"The situation is so bad and so dangerous that all of us cannot afford to fail," the former UN chief added, in response to a suggestion that dialogue with the government was futile.

Diplomats at the United Nations in New York had expressed pessimism about the prospects for Annan's mission after troops poured into the northwestern city of Idlib late on Saturday just hours after his first meeting with Assad.

Annan told the media conference that he had on Sunday discussed with Assad ways to halt unrest in Syria, which monitors say has claimed more than 8,500 lives since March last year.
"I presented a set of concrete proposals which would have a real impact on the situation on the ground and which will help launch a process aimed at putting an end to this crisis," the former UN chief said.

"The realistic response is to embrace change and reforms," he added.

Syrian state television said there was a "positive atmosphere" to Saturday's talks between Assad and the former UN chief, their first since Annan's appointment as international envoy on the conflict.

The president said on Saturday he would back any "honest" bid to end the violence but warned dialogue would fail if the "terrorist groups" he claims are fomenting the violence remained, state media said.