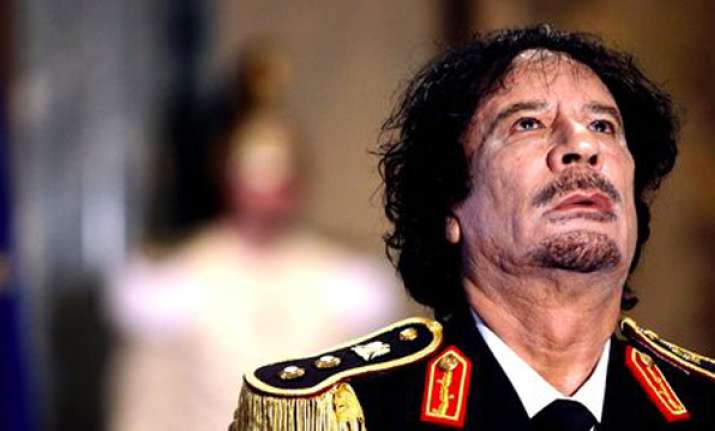 Cairo, Aug 30 :  On the run fallen Libyan dictator Muammar Gaddafi's family, who slipped into Algeria, is being given passage to a third country, Algerian officials said, revealing that his daughter Aisha has given birth to a baby girl.

"Aisha gave birth to little girl very early this morning.  Mother and daughter are doing fine," al-Arabia reported quoting an Algerian official.

Gaddafi's wife Safia, Aisha and his sons Mohammed and Hannibal were said to have entered Algeria on Monday.  But as the Libyans rebels demanded immediate repatriation of the Gaddafi clan, the Algerian officials today said that Algeria had given them "a pass" to enter a third country.  But officials did not name the country where the Gaddafi clan was headed for, with speculation rife that it could be any of the North African countries, many of whom have been recipients of Gaddafi's largesses.

Forty eight hours after Egyptian news agency MENA broke the news that six armoured Mercedes carrying Gaddafi family had crossed into Algeria, the country officially confirmed their presence saying that the family had been given shelter for "strictly humanitarian reasons".

Al Arabia quoted Algerian Foreign Ministry spokesman Amar Belani as saying "we have informed the Secretary General of the United Nations, the President of UNSC and the president of the Libyan Transitional National Council (NTC)."
So far the Algerian government has not recognised the new government led by Libyan rebels and has adopted a stance of strict neutrality in the conflict in its neighbouring country, leading to charges by the NTC of Algeria having provided Gaddafi with mercenaries to fight the opposition.
The pan Arab news channel said that Gaddafi and his two sons were reported to be holed up in Bani Walid in the south.

Bani Walid along with regions of Sirte and Sabha are still controlled by pro-Gaddafi forces and the Libyan rebels advancing upon these regions have issued a Saturday deadline for them to surrender. PTI