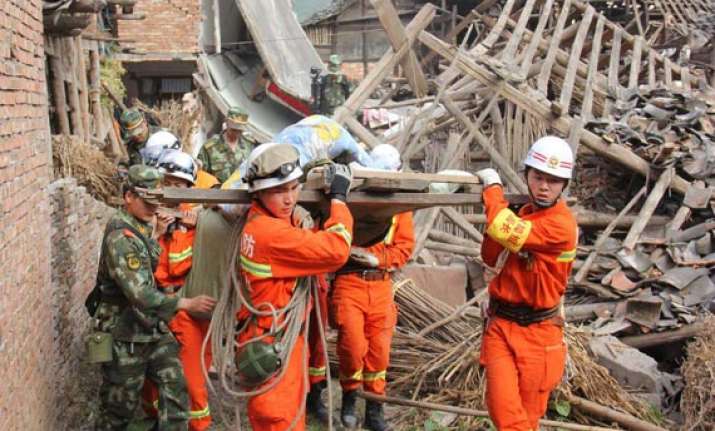 Beijing, Jul 22:  Nearly 90 people were killed and over 500 injured when two powerful shallow earthquakes today jolted a remote mountainous province in northwestern China near Tibet, damaging more than 20,000 homes and triggering landslides.
The quakes with magnitudes of 6.6 and 5.6 struck Minxian and Zhangxian counties in Gansu Province.  Over 400 aftershocks had been recorded in the quake-hit region, with the strongest measuring 5.6 in magnitude, Chang Zhengguo, spokesman for the provincial government, said.  Official Xinhua news agency reported that the death toll has climbed to 89.
According to latest figures, 87 people were killed in the city of Dingxi and two in the neighbouring city of Longnan.  Minxian reported the bulk of the casualties, with 87 deaths, 5 missing and 515 injured, including 60 people in serious condition.
An initial survey showed that the quake had caused the collapse of more than 1,200 houses and severe damage to 21,000 homes. Around 3,000 firefighters, armed police, soldiers and local government workers have been mobilised for the rescue.
Aftershocks and minor landslides with falling rocks were seen in the mountainous region, posing dangers for rescuers arriving at quake-hit villages.  In the villages in the seriously-hit Meichuan Township, of Minxian County, many rural buildings had been reduced to ruins and others had cracks in the walls, Xinhua reported.  A total of 31 people have been confirmed dead in Meichuan, according to rescuers.
Zhu Wenqing, a 40-year-old farmer in Majiagou Village in Meichuan said his house survived the first quake but eventually collapsed following seven or eight aftershocks.  Villagers said the victims were mainly elderly and children, who failed to escape from collapsing houses.  President Xi Jinping has urged all-out rescue effort and put "saving life" as the top priority.
Two helicopters and about 3,000 armed police, firefighters, local militiamen and local government staff have been sent to the quake-hit region to help with rescue efforts.  This is the second major quake to have hit China since April this year. Over 200 people were killed when a 7.0-magnitude quake hit the southwest Sichuan Province.  The epicentre of the quakes, with a depth of 20 km, the China Earthquake Networks Centre said.