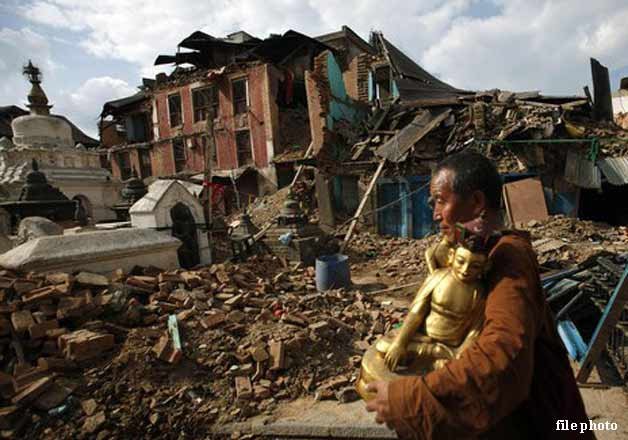 Kathmandu: Around 200 Buddhist monks and nuns have been killed as some 1,000 monasteries collapsed due to the April 25 earthquake and subsequent aftershocks in Nepal, authorities said.
Buddhist Philosophy Promotion and Monastery Development Committee (BPPMDC), under the Ministry of Federal Affairs and Local Development, said that all 215 monasteries in Sindhupalchok district were flattened due to impact of the earthquake.
A total of 150 Buddhist monasteries collapsed in Gorkha, 105 in Dhading, 60 in Rasuwa and 60 in Solukhumbu.
Monasteries also collapsed in Nuwakot, Dolakha, Ramechhap, Okhaldhunga, Makwanpur, Lamjung and Syangja districts as well.
Some well-known monasteries include Seto Gumba in Ramkot; Rato Gumba in Sitapaila, both located in the outskirt of Kathmandu; Khumchey Gumba in Gorkha; Chrighyang Gumba in Dolakha and Chirite Gumba in Sindhupalchok.
Around 200 monks and nuns killed as monasteries collapsed.
Karma Tsering Tashi Lama, president of the BPPMDC, who recently visited many of the earthquake-hit areas in Sindhupalchok and Rasuwa, said he did not see a single monastery that stands intact.
"The monasteries we visited had either fallen or were on the verge of collapse," said Lama.
The Buddhist committee said it has deployed teams to collect the details of destruction in coordination with the local authorities.