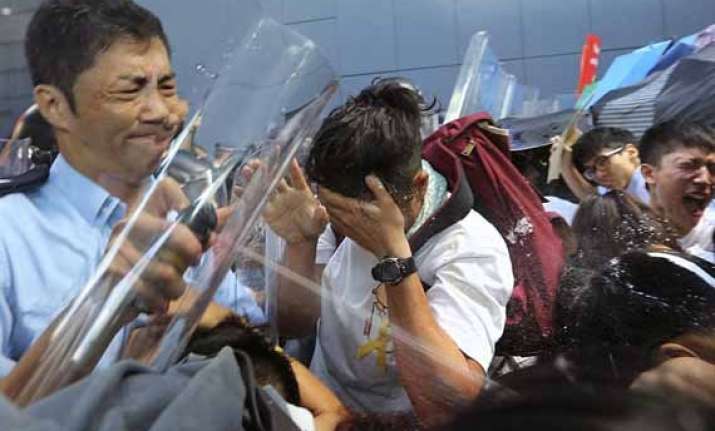 Hong Kong: Hong Kong police clashed with protesters early today, with the government saying 20 people were injured in a fourth night of violence after nearly three weeks of largely peaceful pro-democracy rallies.
Dozens of police with shields and helmets pushed into a crowd of protesters gathered at barricades in the northern district of Mongkok, striking at them repeatedly with batons.
Some demonstrators had to be carried away on stretchers and others treated for head wounds, fractures and bruising, according to AFP journalists and medics at the scene.
Police said in a statement that they had used "minimum force" as protesters "suddenly attempted to charge" their cordon lines. However, protesters told AFP they had done nothing to provoke officers.
The city's government information service said 20 people involved in protest activities had been injured between 10pm and 6am -- but would not specify how many were demonstrators or police, the extent of the injuries, or if they all took place in the Mongkok area.
Hong Kong has been rocked by rallies, which at times have drawn tens of thousands of people to three main protest sites in the city -- the second-largest of which is Mongkok.
Hong Kong's government had confirmed yesterday that it would open talks with student leaders on Tuesday.
The city's deputy leader Carrie Lam told reporters the talks - which will be broadcast live - would be focused on constitutional reform, with both sides allowed to bring five members to the meeting.
But hopes of any breakthrough are slim, with the government unlikely to cede to protesters' core demands -- the resignation of embattled Chief Executive Leung Chun-Ying and free leadership elections for the semi-autonomous city in 2017.
Beijing insists that candidates for the vote must be vetted by a committee expected to be loyal to China, and Leung has warned that the country's communist authorities have no intention of backing down.
Increased force has been deployed in the last few days as officers attempt to clear blockaded roads. Some protesters could be seen with helmets and makeshift protective gear fashioned out of household items including baby mats.
One volunteer medic said that she had seen four people with head injuries with "serious bleeding" as well as a fractured back.
Some injured protesters were taken to nearby Kwong Wah hospital, where activists told AFP at least 10 or more were being treated for injuries to their legs, arms and heads, including suspected fractures.
One protester said police had reacted when a front line of demonstrators blocking a key road opened their umbrellas.
Police said protesters had attempted to charge police cordons by pulling aside barriers and shoving officers, and confirmed three protesters and an officer were injured.