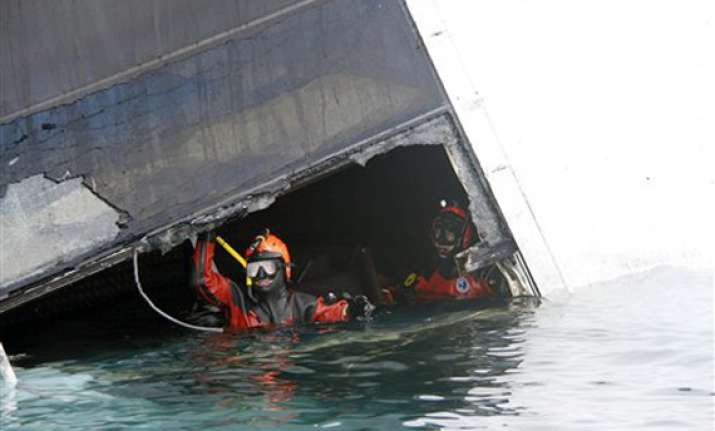 Rome, Jan 24 : Salvage experts can begin pumping fuel from a capsized cruise ship as early as today to avert a possible environmental catastrophe and the ship is stable enough that search efforts for the missing can continue, Italian officials said.

The decision to carry out both operations in tandem was made after instrument readings determined that the Costa Concordia was not at risk of sliding into deeper waters, Franco Gabrielli, chief of the national civil protection agency, told reporters today on the island of Giglio.
"The ship is stable. ... There is no problem or danger that it is about to drop onto much lower seabed," Gabrielli said.

The Concordia rammed a reef January 13 on the tiny Tuscan island and capsized a few hours later just outside Giglio's port as it carried 4,200 passengers and crew on a Mediterranean cruise.

Taking advantage of calm seas, divers today found the bodies of two women near the ship's Internet cafe, raising to 15 the number of confirmed dead.

There are 17 people still unaccounted for, but Gabrielli has said an unregistered Hungarian woman might have been aboard ship. The woman's relatives have told Italian authorities they haven't heard from her since she called them to say she was aboard the ship.

The ship's Italian captain, Francesco Schettino is under house arrest near Naples as prosecutor's investigate him for suspected manslaughter, causing a shipwreck and abandoning his vessel while some passengers and crew were still aboard. 
Schettino has insisted that he was coordinating rescue operations from a lifeboat and then from shore. 
Costa Crociere SpA has distanced itself from the captain, contending that he made an unauthorised deviation from the programmed route. Schettino has reportedly told investigators that Costa officials had requested that he sail close to Giglio in a publicity move.

Schettino's lawyer, Bruno Leporatti, told reporters today that tests on urine and hair samples found that his client had not been under the influence of alcohol or drugs before the crash. Prosecutors could not confirm the report, since they cannot speak about the investigation while it is still under way.

Despite earlier fears, officials said the crippled cruise ship, with a 70-meter long gash in its hull, is not expected to roll off its rocky seabed perch and be completely swallowed by the sea.

In all, seven bodies await identification, but Gabrielli said officials have DNA from the relatives of all of the missing passengers and are working to confirm names and nationalities.
He said the search would continue "as long as it is possible to inspect whatever can be inspected." Meanwhile, Italian Admiral Ilarione dell'Anna said the fuel removal could begin as early as tomorrow, addressing growing concern among residents and environmentalists that the heavy, tar-like fuel could leak from the ship's 17 double-bottomed tanks.

Dell'Anna predicted it would take 28 days to remove all of the fuel, without any interruptions. Officials said the first tank to be emptied will be one above the waterline.