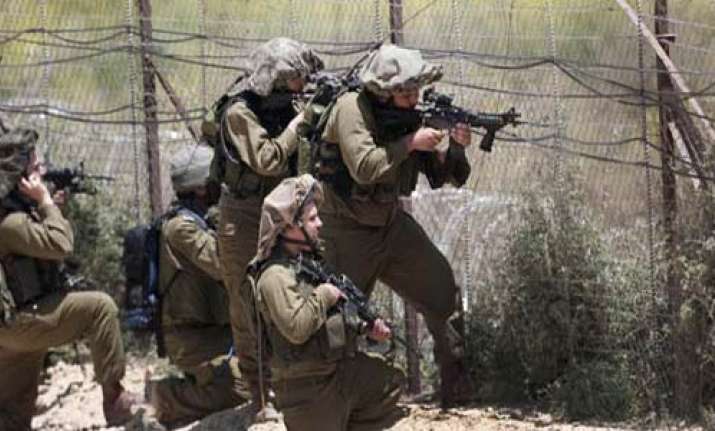 Majdal Shams, Jun 6 : Israeli troops opened fire on Sunday as protesters from Syria stormed a ceasefire line in the occupied Golan Heights, with Damascus saying 14 demonstrators were killed.

Hundreds of protesters rushed towards the ceasefire line, cutting through a line of barbed wire as they tried to head into the Golan Heights in a repeat of demonstrations last month that saw thousands mass along Israel's north.

Similar protests were held in the West Bank, where hundreds demonstrated at Qalandia checkpoint near Ramallah, and in the Gaza Strip, where several hundred more gathered in the north of the coastal enclave.

In Majdal Shams, on the occupied Golan, Israeli troops opened fire as demonstrators sought to push through the mined ceasefire line, which had been reinforced with several rows of barbed wire blocking access to a fence.

"Despite numerous warnings, both verbal and later warning shots in the air, dozens of Syrians continue to approach the border and IDF (Israel Defence Forces) forces were left with no choice but to open fire towards the feet of protesters in efforts to deter further actions," an army spokesman told AFP.

Updating an earlier toll, Syrian state media reported that 14 people were killed, including a woman and child, and more than 220 wounded. The Israeli military said it was aware of 12 casualties, but gave no more details.

Israeli public radio reported that several protesters were injured when a landmine exploded near Quneitra, which lies in no-man's land between Israel and Syria, but there was no immediate confirmation from either side.

In Majdal Shams, locals pleaded with soldiers to stop firing as troops used loudspeakers to warn demonstrators in Arabic that "anyone who comes close to the fence will be responsible for their own blood."

Israeli forces had been placed on high alert after activists in the West Bank and Gaza, and in Arab nations bordering the Jewish state, called for protesters to march on Israeli checkpoints and border areas.

Military spokeswoman Lieutenant Colonel Avital Leibovitz accused Syria of orchestrating the latest Golan protest to deflect attention from deadly anti-regime demonstrations in the Arab country.

"We believe that the Syrian regime is focusing the world's attention on the border with Israel instead of what is happening there," she said.

Israeli Prime Minister Benjamin Netanyahu also commented on the protests, calling demonstrators "extremist elements" who "are trying to break through our borders and threaten our communities and our citizens."

Protests were also staged in Gaza and the West Bank, where hundreds of demonstrators marched to the Qalandia checkpoint by Ramallah, throwing stones at Israeli troops who fired tear gas and rubber bullets.

Sixteen demonstrators were taken to hospital with light wounds from rubber bullets, while another 20 were treated at the scene for tear gas inhalation.

Elsewhere, around 100 people demonstrated in central Hebron in the southern West Bank, while dozens of protesters tried to march from the northern West Bank village of Deir al-Hatab to the nearby Elon Moreh settlement.

In Gaza, Hamas police arrested around a dozen protesters who broke away from a rally at the entrance of the northern town of Beit Hanun, and tried to march to the Erez border crossing with Israel.

Sunday's protests, timed to coincide with the 44th anniversary of the Six-Day War when Israel captured the Golan from Syria as well as the West Bank and Gaza Strip, were planned as a repeat of massive demonstrations last month.