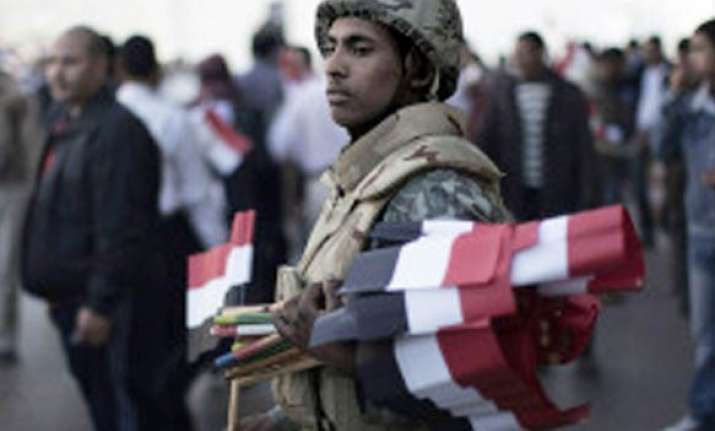 Cairo, Feb 18: Tens of thousands of Egyptians today packed the Tahrir Square here, the flash point of the pro-democracy protests that toppled President Hosni Mubarak, for a " victory march", even as an influential cleric asked military to sack the cabinet dominated by old-regime figures.  
In a Friday sermon held in the Egyptian capital's Tahrir Square, Qatar-based Egyptian cleric Yusuf al-Qaradawi, close to Muslim Brotherhood, asked Arab leaders to listen to their people and acknowledge their region has changed.  
"The world has changed, the world has progressed, and the Arab world has changed within," al-Qaradawi said.  
"We want a new government that doesn't include the old faces ... When people see the old faces, it reminds them of hunger, poverty, misery," said Qaradawi, who is widely considered one of Islam's top scholars.  
"Don't obstruct the people," Qaradawi said, addressing his message to the Arab world's leaders. "Don't try to lead them on with empty talk. Conduct a real dialogue with them."  
Qaradawi, who has close ties with Muslim Brotherhood, asked the military to sack the cabinet dominated by old regime figures, a key demand of pro-democracy activists.  
Keeping up pressure on the new military rulers to carry out democratic reforms, the groups, which had organised the uprising, called it the "Friday of Victory and Continuation," reflecting both their achievement in forcing 82-year-old Mubarak out and their concerns about the future.
On the day of prayers and celebrations, many flag-draped protesters played musical instruments at the Square, which wore a festive look and where a large number of children were also present.  
The Coalition of the Revolution Youth, an alliance of pro-democracy groups that helped launch the revolt, called on the gathering to "remember the martyrs of freedom and dignity and justice," Al-Jazeera reported.  
Before stepping down, Mubarak sacked his government and ordered former air force commander Ahmed Shafiq to form a new cabinet. The move that was aimed at placating the protesters. But Shafiq kept on most of the members of the old cabinet dominated by Mubarak's National Democratic Party.  
At least 365 people were killed and 5,500 injured during the protests against Mubarak's 30-year regime, according to Egypt's Health Ministry.
Pro-democracy activists also sought an investigation into the killings during the uprising, lifting of the decades-old emergency law and support for the pay strikes by workers across the country.  
"We are going today to commemorate the martyrs and in doing so we are awaiting justice," Mohammed Waked, a protest organiser, was quoted as saying by the pan-Arabic satellite channel. PTI