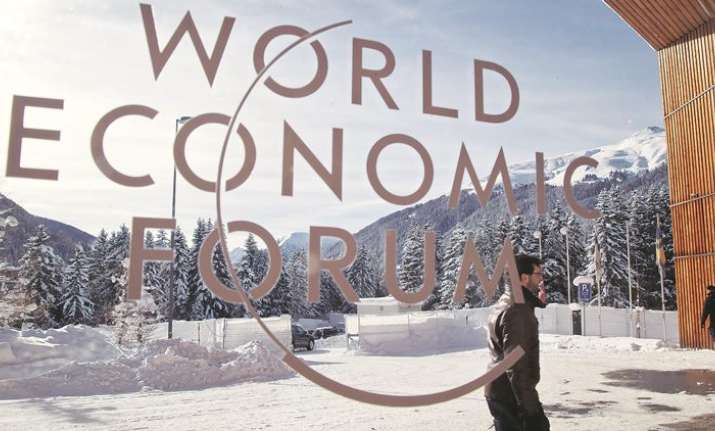 Prime Minister Narendra Modi, his team of ministers and Indian CEOs delivered a strong message at the opening ceremony of the World Economic Forum Summit 2018 on Monday - India means Business. 
At the inaugural event, Indian ministers networked among 1500 delegates from across the globe and showcased India's achievements in the ease of doing business and the opportunities it offers for prospective investors. 
India's enthusiasm at World Economic Forum was also heightened with PM Modi's presence at the summit, as he is the first Indian PM to attend WEF after HD Dewe Goda in 1997. 
"PM's presence gives a big message to the world community, that India is open for business. Here, we are all giving out information about the 'New India 2022' that we are working towards," Union Minister Piyush Goyal said on Monday. 
Andhra Pradesh CM N Chandrababu Naidu, who is in Davos along with his cabinet minister Nara Lokesh, claimed that this year the summit is 'India's World Economic Forum' as 'PM is promoting India from Davos'. It is a great opportunity for Andhra Pradesh to attract investment, he added. 
While Nara Lokesh said that the forum was a great platform to combine technology with rural development 'so we can give pin point delivery and eliminate poverty'. 
Also present at the summit, NITI Aayog CEO A Kant said, "PM is coming here to tell the unique story of India's growth along with major structural reforms and the fact that India opened up economy at a time when countries are closing economies. Our FDI grew by 62 per cent when across world it fell by 16 per cent."
"We maintained our growth along with structural reforms, we worked for financial inclusion along with financial growth. PM has worked on global terrorism on the diplomatic front and to tell all of it India's delegation is here," Kant said. 
The World Economic Forum also honoured Bollywood superstar Shah Rukh Khan with the 24th Crystal Award along side Elton John and Cate Blanchett. 
The Annual Crystal Awards ceremony, which opens the summit in the Swiss ski resort, celebrates the achievements of outstanding artists who have shown exemplary commitment to improving the state of the world.
"Extremely charged that I have had this amazing opportunity, this award, being recognized like this for minuscule work that I did, I would like to do it with even more fervor. What is even more pleasant is that India is here in full power," Shah Rukh Khan said during the opening ceremony in Davos on Monday.
In the largest ever Indian presence in the 48-year history of WEF summit in Davos, more than 130 Indian CEOs are present along with over 2,000 business leaders and 70 heads of states and governments. Besides, several other leaders from politics, business, academia, art, culture and civil society are also present for the event which opens on Monday and will close on Friday.
Earlier in the day, PM Modi held a bilateral meeting with Swiss President Alain Berset.
Berset greeted Modi with a warm handshake in this town in the Swiss Alps before leading the Indian leader to the meeting.
This is Modi's second visit to Switzerland in nearly two years after his visit in June 2016. He reached Davos for World Economic Forum 2018 on Monday.