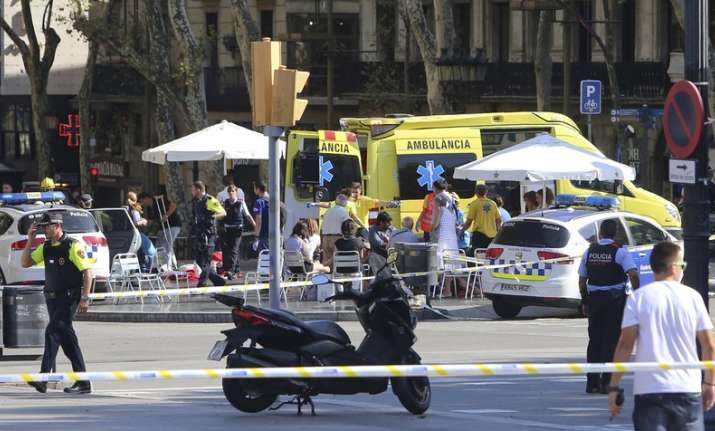 Police put up scores of roadblocks across northeast Spain on Sunday in hopes of capturing a fugitive suspect from the 12-member Islamic extremist cell that staged two vehicle attacks and plotted much deadlier carnage using explosives favoured by Islamic State terrorists.
Complicating the manhunt, though, was the fact that police have so far been unable to officially identify who exactly is at large.
While police have identified the 12 members of the cell, three people remain unaccounted for: two believed killed when the house where the plot was being hatched exploded Wednesday, and a suspected fugitive, Catalan police official Josep Lluis Trapero told reporters today.
Trapero declined to confirm that Younes Abouyaaquoub, a 22-year-old Moroccan, was the one at large and the suspected driver of the van that plowed down Barcelona's Las Ramblas promenade Thursday, killing 13 people and injuring 120.
Another attack hours later killed one person and injured others in seaside town of Cambrils.
"We are working in that line," Trapero said. But he added: "We don't know where he is."
Another police official did confirm that three vans tied to the investigation were rented with Abouyaaquoub's credit card: The one used in the Las Ramblas carnage, another found in the northeastern town of Ripoll, where all the main attack suspects lived, and a third found in Vic, on the road between the two.
Police believe the cell members had planned to fill the vans with explosives and create a massive attack in the Catalan capital.
Trapero confirmed that more than 100 tanks of butane gas were found at the Alcanar house that exploded, as well as ingredients of the explosive TATP, which was used by the Islamic State group in attacks in Paris and Brussels.
"Our thesis is that the group had planned one or more attacks with explosives in the city of Barcelona," he said. That plot was foiled, however, when the house in Alcanar blew up Wednesday night.
The investigation is also focusing on a missing imam, Abdelbaki Es Satty, who police think could have died in the Alcanar explosion.
Trapero confirmed the imam was part of the investigation but said police had no solid evidence that he was responsible for radicalising the young men in the cell. Es Satty in June abruptly quit working at a mosque in Ripoll and has not been seen since.
His former mosque denounced the deadly attacks and weeping relatives marched into a Ripoll square on Saturday, tearfully denying any knowledge of the radical plans of their sons and brothers. Abouyaaquoub's mother said his younger brother Hussein has also disappeared, as has the younger brother of one of five radicals shot dead Friday by police during the Cambrils attack.