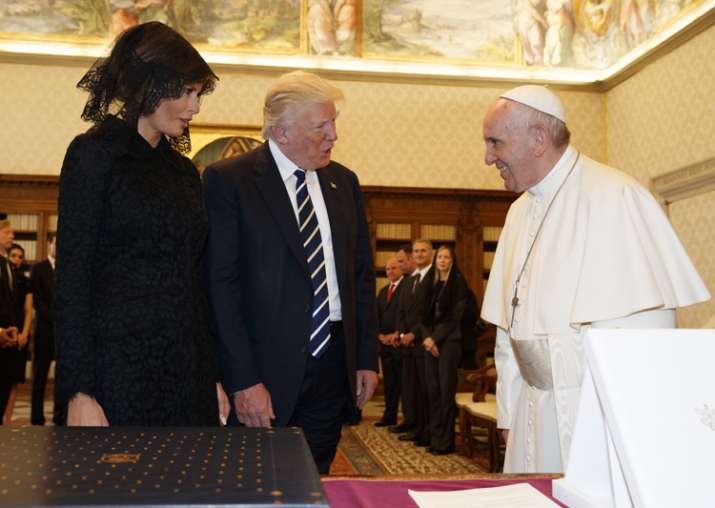 US President Donald Trump met Pope Francis at the Vatican today. He was accompanied by his wife Melania and daughter Ivanka. 
During the keenly-watched first face-to-face meeting between Pope and Trump, the 266th Pope of the Roman Catholic Church cracked a joke on the President's physical size when he met Melania.
He asked her what she feeds her husband as he referred to Trump's physique. 
"What do you feed him on? Potica?" Francis asked Melania. 
Potica is a traditional sweet bread, which can also be filled with chocolate or honey, and is baked in the form of a Swiss roll.
To this, Melania, who grew up in the Slovenian town of Sevnica, replied: "Potica, yes," much to the amusement of the people surrounding them. 
Trump too took the comment in good spirit and was seen grinning broadly. 
For the brief meet, Melania wore a traditional black veil -- an item that was common for women to wear to Catholic church into the 1950.
According to an interview Trump gave last year, he is 1.88 metres tall and weighs 235 pounds (107 kg).
The meeting between the two top world leaders was keenly-watched by the media who have clashed repeatedly on several issues. 
The private audience with the pontiff was preceded by a cordial handshake for the cameras and was lasted around 20 minutes. 
It came on the third leg of Trump's first overseas trip as President, which has already taken him to Saudi Arabia and to Israel and the Palestinian territories. 
The two men had never met before Wednesday morning but they have significant history having clashed publicly over subjects ranging from migration to unbridled capitalism and climate change to the famed Mexico wall. 
The meeting took place in the private library of the Apostolic Palace, the official papal residence that Francis does not use, having opted instead for modest lodgings in a Vatican guesthouse.