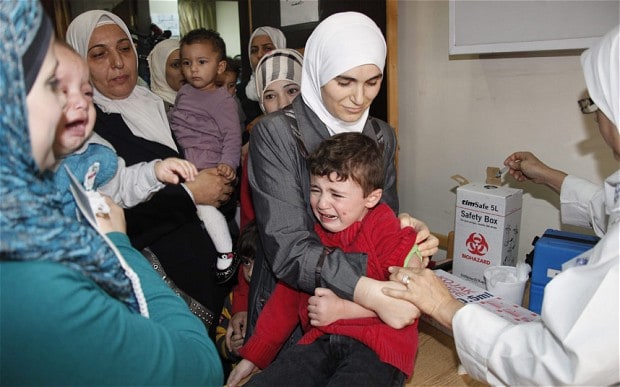 A polio upsurge has been confirmed in an area of Syria partly held by Islamic State, the first re-emergence of the virus in Syria since 2014, the Global Polio Eradication Initiative and the World Health Organization said on Thursday. The virus was confirmed in stools of two people later they tend to be paralyzed and those of a healthy child. A goal that was set for the year 2000 when the measures for removal of virus was launched in 1988, but which has been repeatedly pushed back, and now on hold. 

Nigeria, Laos and Congo have also seen vaccine-derived polio cases in the past three years. 

 

 Afghanistan and Pakistan is still a victim of original wild virus, but vaccine-derived polio can resurface in warzones and areas with poor health coverage, since the excrement of people who have been vaccinated may infect those who have not. Polio size the nervous system and can cause irreversible paralysis within hours, and it can spread rapidly among children. If transmission can be ended, it would be only the second human disease to fight for.

 

Syria was declared free of polio in 1999. But the disease re-emerged last year, after two years of conflict. The World Health Organization (WHO) says there are now 25 laboratory-confirmed cases in the country, with another 13 confirmations pending. But Syrian doctors put the number of children with clinical symptoms of polio much higher, at least 110. And for every victim, there are at least 200 people - some doctors say up to 1,000 - carrying and spreading the virus. The polio virus lives in water, contaminated food and sewage. It was first rediscovered in one of Syria's least-developed provinces - Deir EZ-Zor, in the east, where the infrastructure needed to provide electricity and clean surroundings.

 

 "On May 29, a World Health Organization spokeswoman told media that there had been 50 cases of acute flaccid paralysis in the governorate since the start of 2017, but no stool samples had yet tested positive for polio has been largely destroyed". 

 

Response to a Large Polio Outbreak:
The World Health Organization's (WHO's) Early Warning, Alert and Response Network (EWARN), through which the outbreak was identified in October 2013. The nonpolio AFP (NPAFP) and stool adequacy rates served as indicators for assessing the ability of the affected countries to detect polio cases and also to determine when the outbreak had been interrupted.