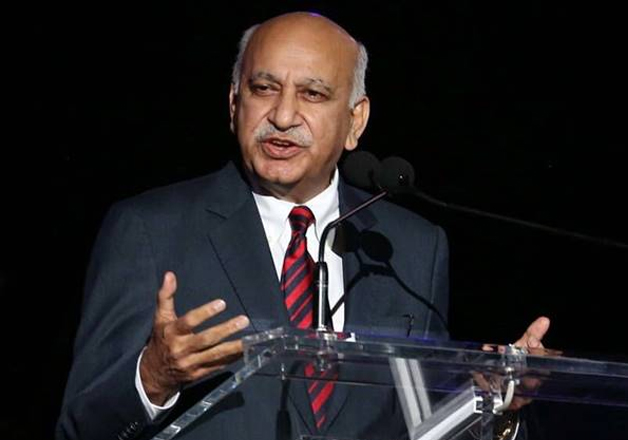 India today called for expanding fight against terrorism, saying strong actions must be taken against nations who support and finance the menace.
Addressing the meeting of Heads of Governments of the Shanghai Cooperation Organisation (SCO) in the Kyrgyz capital, MoS for External Affairs MJ Akbar said that besides eliminating terrorists and disrupting terror networks, the world must identify the nations who use terrorism as a state policy to spread hatred. 
Abkar also choose to reiterate country's commitment on the occasion to combat this menace and said that it is the 'single most significant threat' to peace and stability. 
"We reiterate our strong commitment to combat this menace in all its forms and manifestations, and stress there can be no justification for acts of terror on any grounds whatsoever," he said. 
Akbar lauded the clarity shown by SCO on terrorism from its inception, with its clear markers that there are "no if and buts, no root causes that become an excuse for toxic branch operations". 
"We strongly believe that our fight against terrorism should not only seek to eliminate terrorists, and disrupt terror organisations and networks, but should also identify, hold accountable and take strong measures against states who encourage, support and finance terrorism, provide sanctuary to terrorists and terror groups, and falsely extol their virtues," Akbar said at the meeting also attended by Pakistan Prime Minister's Advisor on Foreign Affairs Sartaj Aziz. 
"There should be no glorification of terrorists as martyrs," he said in an apparent reference to Pakistan's praise for Hizbul Mujahideen militant Burhan Wani. 
Referring to the SCO member states, Akbar said, "Each of us here have faced the grave threat posed by terrorism, transnational crimes and radicalism fed by bigotry." 
Akbar, in his address, also called upon all countries to work together to expedite the adoption of the draft Comprehensive Convention on International Terrorism (CCIT) in the UN General Assembly without any further delay. 
He informed the gathering that India was meeting the timeline set by the SCO and was acceding to the various documents of the SCO, on schedule, which is to be completed by April 15, 2017. 
Akbar asserted that India's membership in SCO will contribute significantly to its economic dynamism. 
He highlighted that India was "the world's fastest growing free market economy, with an annual GDP growth of 7.5 per cent". 
"With the increased pace of economic reforms and focus on ease of doing business, e-governance, digitisation, financial inclusion, start-ups, and smart cities, India today has one of the most liberal FDI regimes in the world and offers potential business opportunities to enterprises all over the world," he said. 
The SCO currently has six member states -- China, Russia, Kazakhstan, Tajikistan, Kyrgyzstan and Uzbekistan -- while the membership of India and Pakistan was announced this year and paperwork for formal elevation is expected to be completed by next year.
With PTI Inputs