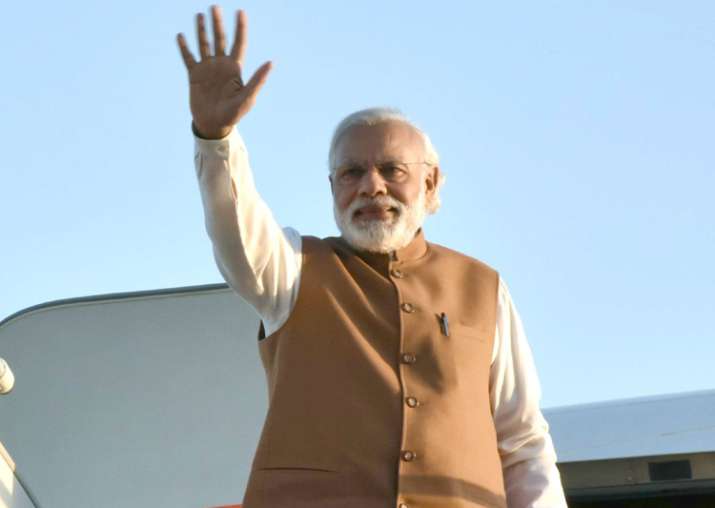 Prime Minister Narendra Modi will begin his four-nation tour to Germany, Spain, Russia and France today, with an aim of boosting India's economic engagement with these nations and inviting more investment. 
The meeting will begin with a meeting with Germany's Chancellor Angela Merkel under the framework of India-Germany Intergovernmental Consultations (IGC), scheduled at her official country retreat in Meeseberg. He will also call on German President Frank-Walter Steinmeier.
In Berlin, Modi and Merkel will also interact with top business leaders of both the countries to further strengthen the trade and investment ties. 
"I am confident that this visit will open a new chapter in our bilateral cooperation with Germany and further deepen our Strategic Partnership," PM Modi said in a Facebook post.
However, the trouble here, from the German point of view, is the Indian decision to kill all bilateral investment treaties between India and European countries.
Indian officials said the treaties were poorly negotiated and patently against Indian interests. European countries had asked India to keep them going for six more months but India refused, in anticipation that European countries would weigh in with the EC to complete negotiations on the India-EU FTA.
This will be PM Modi's first engagement with a European Union whose relationship with the United States has come under intense pressure, and at times when tensions with Moscow have been rising. 
While PM Modi's meeting with Merkel is expected to focus on business issues, including stalled negotiations on a free trade deal between the EU and India, as well as investments, technology and terrorism, the summit will also offer Merkel an opportunity to push her vision on how the global on how the global economic order ought to be defended at a time of declining US leadership, diplomatic sources said.
In the recently-concluded G7 summit in Sicily, US President Donald Trump had attacked Germany for its trade surplus, which touched $283 billion -- $64.9 billion of it with the US. 
On the other hand, Russia sees India as a potential ally in defending the global free trade regime against the wave of protectionism Trump represents, since India has also been facing pressure over visas for skilled workers, which pose a problem for its IT firms operating in the US. 
Earlier this month, Germany's Ambassador to India, Martin Ney, told journalists that "since we have some common questions (about the Belt and Road project) in India and in Germany, this is a good reason why we should be able to sit down and discuss how we should do trade".
Germany, like other European states, did not sign the document that emerged from the recent OBOR forum. Underlining Germany's concerns about OBOR, Ney had noted that "while connectivity is not a bad thing, trade must follow free trade policies. Our hesitation has been that there have been no consultations."
In their Monday evening meeting, Modi may also hear from Merkel her concerns that Russia is seeking to push its borders westwards — an argument that has become unwelcome in Washington since the election of Trump. 
Germany and the United States have also been increasingly at odds over Russia. The German chancellor reportedly brought a map to the White House to help Trump understand the threat posed by Russia, showing the Soviet Union's 1980s borders to argue that President Vladimir Putin wished to restore them. 
On May 31, the Prime Minister will hold a bilateral summit with Spanish Premier Mariano Rajoy.
Modi will also call on Spanish King Felipe VI and interact with a select group of Spanish CEOs keen to invest and expand their businesses in India. Around 200 Spanish companies are operating in India.
Stating that economic partnership formed an important pillar of the bilateral relationship, Jaiswal said: "Spain enjoys a reputation in the fields of renewable energy, high speed rail, infrastructure, tunneling, technology solutions, including civil aviation air space management, and waste water management."
Cooperation in counter-terror will be an important element of the agenda in Spain.
From Spain, Modi will travel to Russia on May 31 and hold the 18th annual bilateral summit with Russian President Vladimir Putin on June 1 in St. Petersburg.
The following day, the Prime Minister will for the first time attend the St. Petersburg International Economic Forum (SPIEF), a business event.
G.V. Srinivas, Joint Secretary (Eurasia) in the Ministry of External Affairs, said Modi's participation in SPIEF signals that there will be emphasis on trade and investment during the Russian leg of the tour.
Stating that while India-Russia cooperation in the areas of defence, nuclear and space was "very, very ahead", Srinivas said that bilateral trade has, however, come down for a variety of reasons from $10 billion to around $7 billion now.
Science and technology cooperation and people-to-people contacts are also areas that will come up for discussion during the Modi-Putin meeting.
From Russia, Modi will fly to Paris on June 2 evening and hold a bilateral meeting with French President Macron the next day.
Stating that France was a leading strategic partner of India, Jaiswal said that the two countries have very strong cooperation in the areas of space, civil nuclear, defence, and economy.
According to Jaiswal, during the France, Germany and Spain legs of the tour, the ongoing discussions between the European Union and India on a Free Trade Agreement would also figure prominently.
European nations are among those with which India has terminated bilateral investment protection treaties (BITs) following a new BIT model New Delhi released in December 2015.
Stating that EU member-states have passed on the responsibility of investment protection negotiations to the EU, Ambassador Ney said that the European Commission and the Indian government should "sit down as soon as possible" to negotiate a free trade agreement.