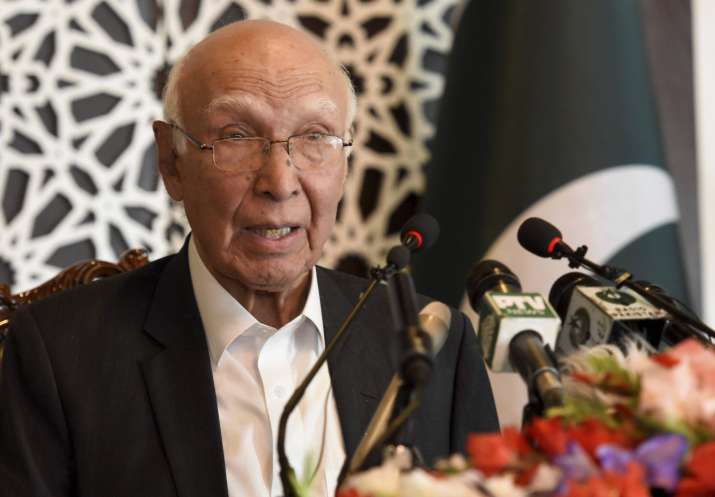 Pakistan has said that it wants to resolve all outstanding issues with India, including Kashmir, through dialogue so that peace can be restored in the region. Sartaj Aziz, Pakistan Prime Minister Nawaz Sharif's adviser on foreign affairs, said that Islamabad wants to hold dialogue with India to resolve all outstanding issues. 
Aziz's remarks came amid escalating tension between India and Pakistan along the Line of Control (LoC) and repated ceasefire violations. According to a a report by The News International newspaper, Aziz accused India of increasing the tension on the LoC to divert attention from the human rights violations in Kashmir. He claimed during the last one year, India had committed 450 LoC violations, killing many innocent people. 
Aziz, however, said that Pakistan would continue political, moral and diplomatic support of Kashmiris until and unless Kashmiris achieve freedom from India, an indication that terror activities in Jammu and Kashmir will continue to get support from across the border. He said India could not suppress the vigour of Kashmiris for freedom. 
Hailing Burhan Wani's killing a "martyrdom", Aziz said vigour of Kashmiris had reached at the peak during the last one year after Hizbul Mujahideen commander's death. 
He said that India being a democratic country should give chance to the people of Kashmir to decide their future course. He asked if referendum could be held in Italy and Britain, then why not in Kashmir. Aziz claimed that if plebiscite was held in Kashmir no Muslim would decide to live with India. 
Aziz had last week said that Pakistan will not enter into any dialogue with India that excludes Kashmir.