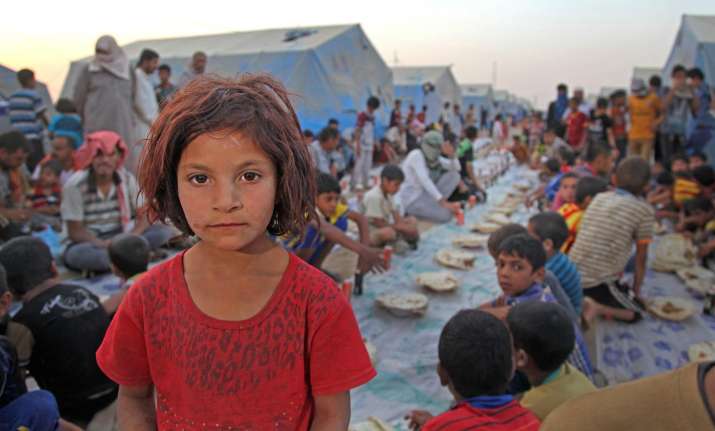 More than 1,000 children have been killed in Iraq since 2014 when militants from the Islamic State seized the northern city of Mosul and entire swathe of the country, according to a report by United Nations Children's Fund (Unicef).
"Across Iraq, children continue to witness sheer horror and unimaginable violence," Peter Hawkins, a Unicef representative in Iraq, said in a statement. "They have been killed, injured, abducted and forced to shoot and kill in one of the most brutal wars in recent history." Another five million children need emergency aid, the statement further said.
In beleaguered Mosul, Unicef has also documented a number of cases in which ISIS fighters killed the children of families trying to escape from neighbourhoods it controlled, Hawkins said. "They are using children as a weapon of war to prevent people from fleeing," Peter stated.
At least 1,075 children have been killed in Iraq since 2014, of whom 152 died in the first six months of this year, according to data from a new Unicef report entitled 'Nowhere to Go'. A total 1,130 children are known to have been injured in the conflict with IS since 2014, including 255 this year, and over 4,650 children have been orphaned or separated from their families, the report said.
There have been 138 attacks on schools and 58 attacks on hospitals, Unicef said.
Over three million children do not attend school regularly and 1.2 million children's education has been put on hold due to IS rule or because they had to flee their homes, the report states, adding that many areas of the country have become war zones whose infrastructure has been badly damaged or destroyed and half of Iraq's schools need repairing.
According to the Unicef, the fighting in Iraq has displaced more than 1.5 million children in the past three years.
Families have sought refuge in sprawling desert camps around ISIS's former 'capital' of Mosul, as the hot weather drags on with temperatures reaching at least 40 Degrees Celsius almost daily.
Unicef called for urgent humanitarian assistance for all children caught up in the conflict, an immediate end to the fighting and to "grave violations" including the killing and mutilation of minors and their recruitment as fighters.
Families must to be allowed to flee from war zones such as Mosul or to return to areas where fighting has ended, Unicef said, urging major investments in education and health services and the protection of all children in detention required under international law.
Unicef said that it was asking donors for USD 100 million in emergency aid in Iraq and to help children and their families restart their lives when they return to their homes.
(With IANS Inputs)