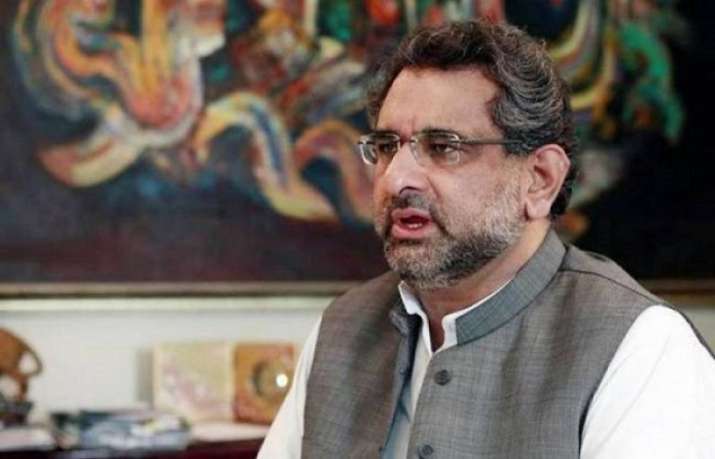 Pakistan's interim Prime Minister Shahid Khaqan Abbasi said on Wednesday that his country has developed short-range nuclear weapons which will counter the 'Cold Start' doctrine adopted by the Indian Army. He also asserted that Pakistan's nuclear arsenals are safe and secure. 
Responding to a question at the Council on Foreign Relations, a top American think-tank, Abbasi said that his country has a "very robust and secure command-and-control system over its strategic nuclear assets". 
"Time has proved that it's a process that is very secure. It's a process that has complete civilian oversight through the NCA," he added. 
The Nuclear Command Authority (NCA) of Pakistan is the authority responsible for command, control and operational decisions regarding the country's nuclear arsenals.
"As far as tactical nuclear weapons (are concerned), we do not have any fielded tactical nuclear weapons. We have developed short-range nuclear weapons as a counter to the 'Cold Start' doctrine that India has developed. Again, those are in the same command-and-control authority that controls the other strategic weapons," he said.
Moderator David Sanger said Pakistan has the fastest growing nuclear arsenal in the world.
"There's no nuclear arsenal in the world that is growing faster. And there's no nuclear arsenal in the world, other than North Korea's, that tends to worry America more, because they worry about the safety of the arsenal. They worry about the command and control of the arsenal," Sanger said.
Abbasi said that the command-and-control systems they have in place are as secure as anybody else's in the world.
"The last 20 years are testament to that," Abbasi said in response to another question.
"So let there be no doubt that any extremist element or somebody like that can gain control of fissile material or a nuclear weapon.
There is just no possibility of that. And it's time-tested, and it's a very secure system that has been put in place," he said.
"Pakistan is a responsible global citizen, and we've shown a responsibility on the ground with this huge war on terror that we've been fighting for the last 15 years," Abbasi said.
The Pakistan premier sought to dispel the notion surrounding the country's alleged inability to handle its nuclear programmes properly.
"We do have nuclear capability. There's no doubt about that. And we know how to handle nuclear waste. We had a nuclear program in the early '60s, one of the first countries in Asia to have a nuclear program. So if we've managed it for over 50-odd years, I think we can continue to manage it," he said.
Pakistan objects to Trump wanting India to play greater role in Afghanistan
Abbasi also objected to US President Donald Trump advocating a greater role for India in war-torn Afghanistan.
Abbasi during a meeting with US Vice-President Mike Pence on the sidelines of the United Nations General Assembly here on Tuesday expressed concern over the greater role that Trump advocated for India in his new Afghan policy, foreign secretary Tehmina Janjua said.
Janjua's meeting with Pence was the highest contact between the two countries since Donald Trump announced his new policy on Afghanistan and South Asia on August 21 in which he had warned Pakistan for its continued support to terrorist groups and warned Islamabad of consequences if it continues to do so.
Trump had also asked India to play a greater role in war-torn Afghanistan, much to the dislike of Pakistan.
In the meeting, the two sides resolved to remain engaged and carry forward the relationship that has been on a downward trajectory since announcement of the US policy for Afghanistan and South Asia, the APP news agency reported.
"The meeting on the sidelines of the 72nd UNGA session in New York was held in a cordial atmosphere," a handout issued by the Foreign Office said.
"Prime Minister [Abbasi] shared Pakistan's concerns and views with regard to the US strategy for South Asia," it said.
Abbasi and Pence agreed to work together to carry forward the bilateral relationship and discussed matters relating to peace and stability in Afghanistan and the region.
"It was agreed that the two countries would stay engaged with a constructive approach to achieve shared objectives of peace, stability and economic prosperity in the region," the FO statement said. 
(With PTI inputs)