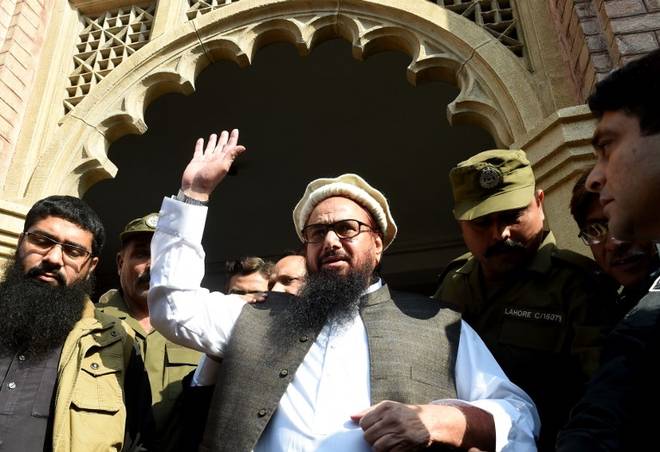 Lashkar-e-Toiba founder and the alleged mastermind of the 26/11 Mumbai attack Hafiz Saeed has filed a petition with the United Nations asking the global body to drop his name from the Security Council's list of designated terrorists.
The development comes just days after his release from house arrest which he had been sentenced to since January 2017. The move sparked outrage in India, with the Ministry of External Affairs dubbing it as an attempt by the Pakistani system to "mainstream proscribed terrorists".
"Pakistan has not changed its policy of shielding and supporting non-state actors and its true face is visible for all to see... India, as indeed the entire international community, is outraged that a self-confessed and UN-proscribed terrorist is being allowed to walk free and continue his evil agenda,'' MEA spokesperson Raveesh Kumar had said on his release.
Saeed vowed to continue his fight for 'azad Kashmir' soon after his release by a Pakistani court.
According to a Hindustan Times report, Saeed's petition to the UN was filed through Lahore-based law firm Mirza and Mirza while he was still under house arrest. Navid Rasul Mirza, former Prosecutor General for Pakistan in the National Accountability Bureau and as the Advocate General of Punjab from March 2015 to January 2016, confirmed that his firm had filed for Saeed's de-listing, the report added.
Saeed, who India believes orchestrated the horrific Mumbai 26/11 attacks that claimed 166 lives, was put on the UN's list of proscribed terrorists on December 10, 2008.
According to the UNSC website, Saeed was proscribed for "being associated with Lashkar-e-Tayyiba (QDe.118) and Al Qaida (QDe.004) for participating in the financing, planning, facilitating, preparing or perpetrating of acts of activities by, in conjunction with, under the name of, on behalf or in support of both entities."
The LeT had been banned by the UN in May 2005. The United States has also designated Saeed as a terrorist and has put a $10 million bounty on his head.
Reacting to Saeed's release last week, the US on Saturday warned Pakistan of "repercussions for bilateral relations" if he was not immediately re-arrested and charged.