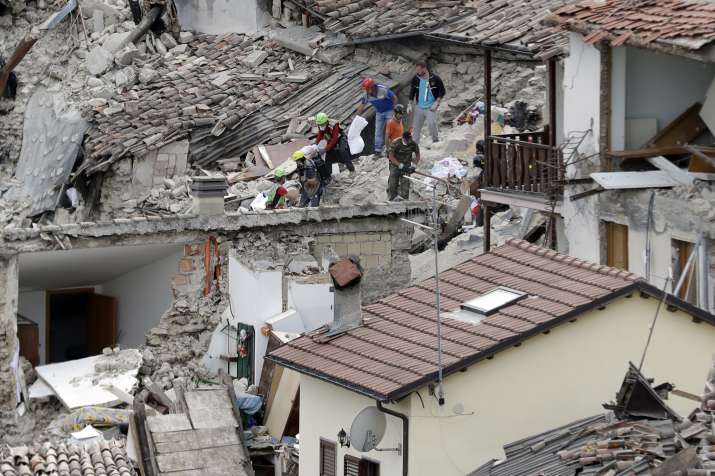 The death toll in 6.2 magnitude earthquake that hit the mountains in central Italy on Wednesday has climbed to 247 lwith several villages and towns being flattened.
Hundreds of others were injured, some critically, and an unknown number were trapped under the ruins of collapsed buildings after Wednesday's pre-dawn quake.
Earlier in the day Prime Minister Matteo Renzi said that over 100 people were killed and 350 were injured in the disaster.
"This is not a final toll," Renzi warned.
A series of aftershocks struck towns in the region, toppling scores of buildings. Many persons are still believed trapped beneath building debris, while rescuers were struggling to reach remote villages and towns levelled in the quake.
The Prime Minister had paid tribute to the volunteers and civil defence officials who rushed to the scene in the middle of the night and used their bare hands to dig for survivors.
The earthquake struck at a shallow depth of 10 km.
The epicentre of the quake was in Norcia in Umbria, about 170 km north-east of Rome, while the hardest hit were the towns of Amatrice, Accumoli and Pescara del Tronto.
Much of the town of Amatrice was reduced to rubble.
Amatrice is known for its traditional all'amatriciana pasta sauce, and was gearing up to hold a festival celebrating the recipe this weekend. The town is popular with holidaymakers and most of the 2,500 people left displaced by the earthquake were said to be visitors.
The Italian branch of the Red Cross sent at least 20 ambulances and sniffer dogs to affected areas alongside the Italian Defence Ministry.
The devastated area is just north of L'Aquila, the city where some 300 people died in another quake in 2009.
Most of the deaths occurred in and around the villages of Amatrice, Accumoli and Arquata del Tronto.
With IANS Inputs