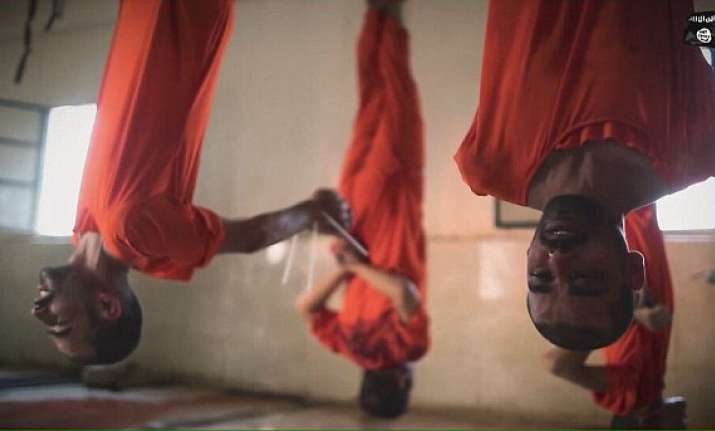 On a day when the world celebrated Eid al-Adha and nations across the globe, including India and Bangladesh that witnessed the tragic Kashmir violence and Dhaka attacks, talked about communal harmony and peace, ISIS released a new execution video in which they hung prisoners upside down from meat hooks and 'butchered them like sheep'.  
In the sickening 12-minute video, men accused of being 'US spies' are filmed having their throat cut in a slaughter house in Deir ez-Zor in north-eastern Syria. 
The video, named 'The Making of Illusion' was released on the first day of the Muslim holy time Eid al-Adha and includes short clips showing actors Simon Pegg and Tom Cruise in the movie Mission Impossible: Rogue Nation. 
According to reports, the video footage has been used by ISIS to mock foreign intelligence services. 
Abu Mohammed, founder of a human rights group, described the video as the 'worst video ever' and that humans were 'butchered like sheep'.
The video shows prisoners hanging upside down by their feet from meat hooks with their throats cut while other awaiting execution are hoisted up in the same position. 
The 12-minute video also features images of past ISIS executions as well as recent terror atrocities.
According to Islam, during Eid al-Adha, also known as the 'Feast of Sacrifice', livestock is slaughtered and one-third of the meat is distributed to the poor.