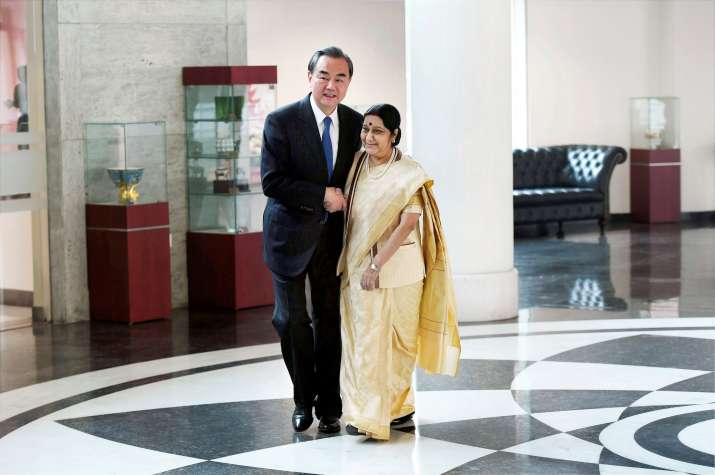 Ahead of the Russia-India-China trilateral meeting, External Affairs Minister Sushma Swaraj met her Chinese counterpart Wang Yi in new Delhi on Monday.
Stating that the meeting imparted fresh momentum to the bilateral relationship, External Affairs Ministry spokesperson Raveesh Kumar said Sushma Swaraj and Wang "had a positive and forward looking meeting".
This is the first high-level visit from China after Indian and Chinese troops were in a tense face-off earlier this year in Doklam on the border.
Later, Sushma Swaraj, Wang and Russian Foreign Minister Sergei Lavrov will hold the Russia-India-China trilateral meeting.
The meeting comes even as media reports suggest that close to 1,800 Chinese troops continued to be stationed in the disputed region.
"Around 1,600-1,800 Chinese troops have now virtually established a permanent presence in the Doklam area, near the Sikkim-Bhutan-Tibet trijunction, with the construction of two helipads, upgraded roads, scores of pre-fabricated huts, shelters and stores to withstand the freezing winter in the high-altitude region," Times Of India reported today.
The report cited Indian security establishment sources as saying that while India had "achieved its strategic objective" of not letting China extend its existing road in Doklam (or the Dolam plateau) southwards towards the Jampheri ridge, the fallout of the 73-day standoff between the two armies has led to "the almost permanent stationing of People's Liberation Army (PLA) troops in the region", instead of the earlier practice of visiting the region once or twice a year to lay claim to the area before retracting.
(With agencies)