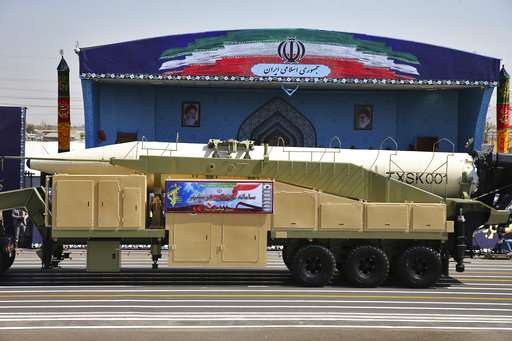 Iran's Revolutionary Guard has unveiled its latest ballistic missile with a range of 2,000 kilometres, about 1,250 miles capable of reaching much of the Middle East, including Israel. 
The unveiling came during a military parade today in Tehran. The parade commemorates the 1980s Iran-Iraq war.  The state-run IRNA news agency quoted chief of the Guard's airspace division, General Amir Ali Hajizadeh, as saying that the new missile, named Khoramshahr, "can carry several warheads for various uses." 
The agency did not provide further information on the missile. Iran has other missiles of this range in its arsenal.  
The move is a direct challenge to President Donald Trump, who signed a bill imposing mandatory penalties on those involved in Iran's ballistic missile programme and anyone who does business with them.