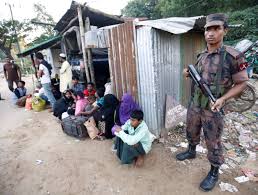 In a rare admission by its authorities of possible abuse of Muslims on part of its authorities, the Myanmar government on Monday pledged to investigate a recent video showcasing security officials abusing Rohingya Muslims and take action.

 

The video shows the police beating and kicking Rohingya civilians. The footage shows police hitting a young boy around the head as he walks to where dozens of villagers are lined up in rows seated on the ground, hands behind their heads.

 

Three officers in uniform then start attacking one of the sitting men, beating him with a stick and kicking him repeatedly in the face.

 

The development comes as thousands of the persecuted community have fled the country to escape the a military operation in Rakhine state launched after attacks on police posts.

 

Bangladesh has stated that roughly 50,000 Rohingya have fled across its border over the past two months. Many have brought harrowing accounts of rape, murder and arson at the hands of Myanmar's security forces.

 

The plight of these fleeing Rohingya's have ensured continued protests against Myanmar's de facto leader, Aung San Suu Kyi, who has been accused of not doing enough to help the Rohingya. 

 

From the start of the fierce crackdown on Rohingya Muslims, the Myanmar government has denied claim of any atrocities and claimed that troops were hunting militants behind deadly raids on police border posts.

 

On Monday, however, authorities pledged to take action "against police who allegedly beat villagers during area clearance operations on 5 November in Kotankauk village" in a statement carried in state media.

 

This is the first time the government has entertained the possibility of abuse despite their being several other videos of such abuses.

 

The Muslims of Rohingya are loathed and despised by Myanmar's Buddhist majority population.