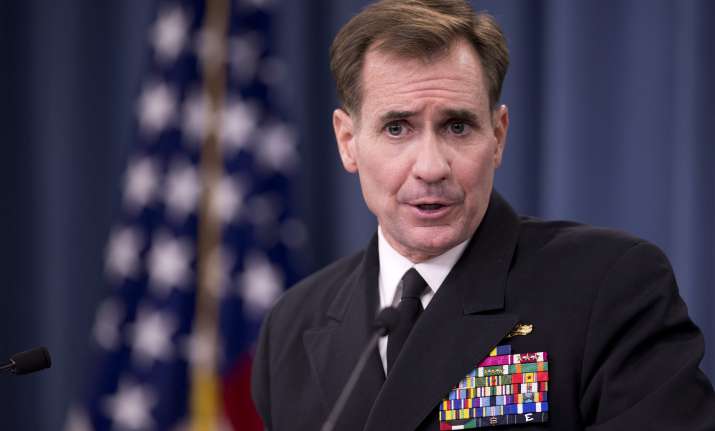 The US has dismissed that its ties with India have hit a roadblock in view of selling F-16 fighter jets to Pakistan and New Delhi's refusal to give visa to a religious body, saying America is having a good and strong relationship with India
I think we have had and we look forward to continuing to have a good, strong relationship with India writ large and with the Modi government specifically," State Department spokesman John Kirby said.
No, I would actually disagree with that," he told reporters at a news conference yesterday when asked if he believes that in view of sale of F-16 fighter jets to Pakistan and visa issue, the US is not having a smooth ride with India.
"There are a lot of common issues, common challenges, common threats, quite frankly, that we and the Indian people face. So no, I would absolutely not characterise that at all.
"I think we have got a good, honest, candid, productive relationship with the Modi government, and we look forward to that continuing. In fact, we look forward to deepening it," Kirby said.
Foreign Secretary S Jaishankar had a meeting with Deputy Secretary of State Anthony Blinken and other government officials this week.
They talked about a wide range of bilateral and regional issues like economic, political, security," Kirby said.
"We had good, productive talks about a wide range of issues facing both our countries as we continue to try to deepen this relationship and deal with very common challenges.
As for the commission and the visas, we have made our concerns known at various levels. I made them known right here from the podium. So we have not been bashful or shy about stating our disappointment," Kirby added.
India has opposed the sale of eight F-16 fighter jets worth approximately $ 700 million to Pakistan, saying it disagrees with Washington's rationale that such arms transfers help combat terrorism.
Justifying its decision not to give visa to members of US Commission on International Religious Freedom (USCIRF), India last week said the group has no locus standi to pass its judgement and comment on its citizens' constitutionally protected rights. India has not been giving them visa since 2009.