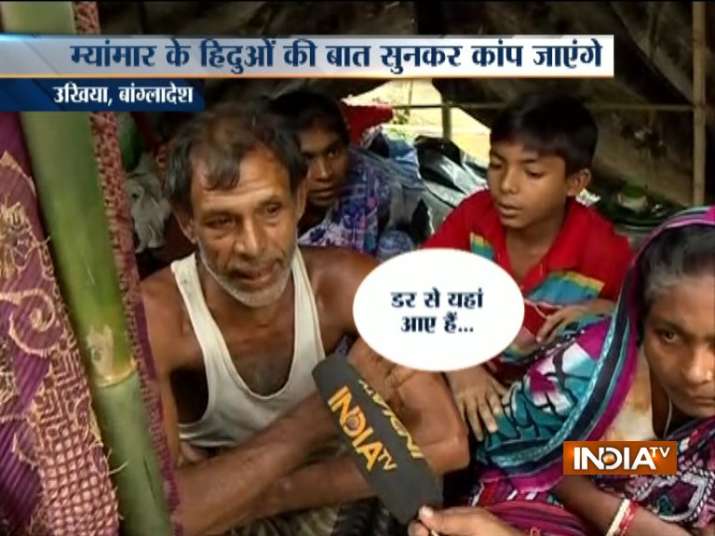 India TV is sharing with you the proof of the atrocities being committed on Hindus in Rakhine province of Myanmar. The revelations made by the hapless Hindus will force you to think whether the Rohingya Muslims are victims or mass murderers? 
In addition to Rohingya Muslims, a large number of Hindus from the Rakhine province of Myanmar are fleeing to Bangladesh. And the reason is that Rohingya Muslims of Rakhine are not allowing Hindus to stay there. The villages of Hindus are being put on fire mercilessly. The Hindus are being openly killed. Their sisters, daughters and daughters-in-law are being gangraped. 
India TV reporter Anupam Mishra visited a camp of Hindu refugees in Ukhia of Bangladesh. In this camp, around 800 Hindus are staying. According to them, Rohingya Muslims have killed around 1500 Hindus by now. Rohingya Muslims are killing Hindus because they have citizenship certificates. Rohingya Muslims feel jealous as they believe that since they are more in number compared to Hindus, it's they who should get the citizenship certificates.
 
"We have fled because of Rohingya Muslims. Rohingya Muslims, and not the Myanmar Army, are committing atrocities on us. They are attacking with masks on their faces. They are cutting us into pieces. We are being attacked because we have citizenship certificates," one of the refugees said. 
India TV reporter met many Rohingya Hindu women who were gangraped many times. One woman was gangraped for 23 days in a row. Another woman was made captive for two days and gangraped during that period. 
"I repeatedly pleaded for my life. Rohingya Muslims said that if you convert to Islam then we would leave you. They asked me to shun Sari and wear burqa. They forced me to read Kalma," one of these Hindu women said.