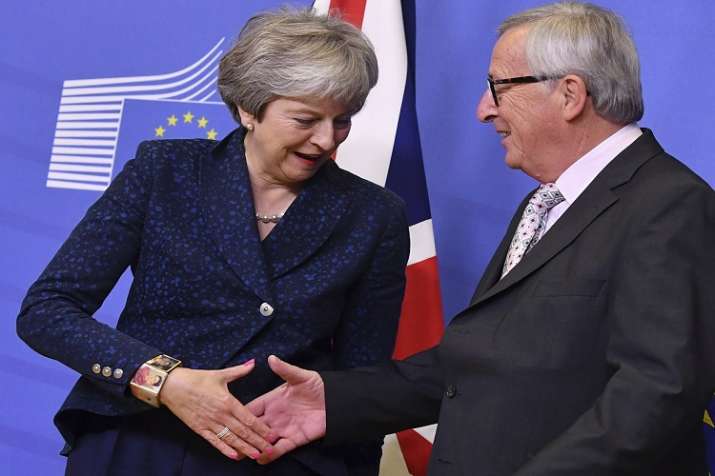 The European Union on Sunday approved the UK's withdrawal agreement from the EU, its chief official Donald Tusk announced in Belgium leaving it upon the UK Parliament to consent to the deal facilitating Britain's departure from the union.
The UK Parliament is expected to vote on the deal in early December but its approval is by no means guaranteed, with Labour, the Lib Dems, the SNP, the DUP and many Conservatives MPs set to vote against.
"EU27 has endorsed the Withdrawal Agreement and Political Declaration on the future EU-UK relations," Tusk broke the news on Twitter.
EU27 has endorsed the Withdrawal Agreement and Political Declaration on the future EU-UK relations.

— Donald Tusk (@eucopresident) November 25, 2018
It follows more than 18 months of negotiations between the two sides, which began when the UK triggered Article 50 in the wake of the 2016 referendum.
The UK is scheduled to leave the EU on March 29, 2019.
Prime Minister Theresa May has hailed the deal as the start of a new chapter for Britain.
May earlier in the day appealed to the public to get behind the agreement, arguing it is the best deal she could have struck and honours the result of the Brexit referendum.
Arriving for a special summit in Brussels, European Commission President Jean-Claude Juncker, head of the bloc's executive arm, said it was a "sad day".
"To see a country like Great Britain ... leave the EU is not a moment of joy nor of celebration, it's a sad moment and it's a tragedy," he said.
Michel Barnier, the former French foreign minister who negotiated the deal on behalf of the bloc, added: "We will remain allies, partners and friends."
The Brexit deal suffered a major setback on November 21 after Spain threatened to veto the agreement over the handling of Gibraltar, a British territory on the Iberian peninsula.
The Spanish government had objected to be a part of the deal that covers future trade and security relations between the UK and the EU, insisting that arrangements related to Gibraltar should be discussed separately. However, the problem's were resolved following last-minute negotiations by Spain and UK on Saturday.
In 2016, over 50 per cent of the UK electorate voted to leave the EU, following which the British government had triggered Article 50 of the Lisbon Treaty, beginning the country's process of its exit from the Europen bloc.