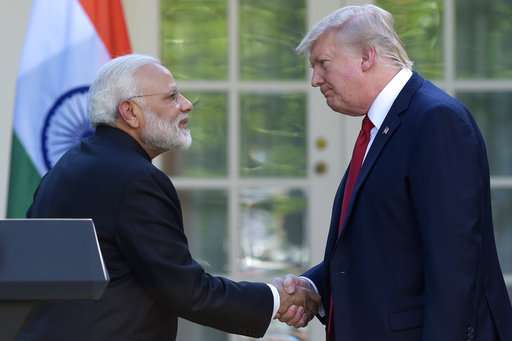 In a big boost to India's bid for permanent membership to the United Nations Security Council (UNSC), US President Donald Trump on Monday extended his country's support to India's candidature.
President Trump also supported India's bid to get entry into Nuclear suppliers Group (NSG).
Prime Minister Narendra Modi, who met President Trump at the White House, thanked him for the support.  
"President Trump reaffirmed the support of the United States for India's permanent membership on a reformed UN Security Council," said a joint India-US statement after the meeting between Modi and Trump. 
"As global non-proliferation partners, the United States expressed strong support for India's early membership in the Nuclear Suppliers Group, the Wassenaar Arrangement, and the Australia Group," the joint statement said.  
Modi said, "We're extremely grateful for the continued support of the United States for India's membership of international institutions and regimes. We truly appreciate the support because this is also in the interest of both our nations". 
India has been making diplomatic efforts to ensure expansion of the permanent as well as non-permanent membership of the UNSC. 
China objects to India's membership bid in the NSG—a 48-member elite group which controls the nuclear trade—and says there is no change in its stance on the admission of non-NPT states into the grouping. India is not a signatory to the NPT.
(With PTI inputs)