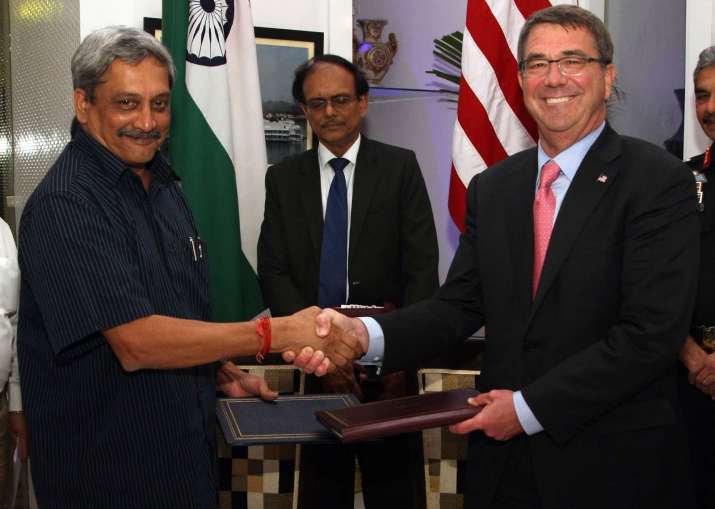 Pakistan sees the recently signed India-US military logistics pact with 'concerns and suspicion' and is currently 'assessing the possible ramifications' of the agreement, a report by Pakistani daily The Tribune said on Wednesday. 
India and US on Monday signed a crucial logistics defence pact that will enable their militaries to use each other's assets and bases, with mutual consent, for repair and replenishment of supplies, making joint operations more efficient.
Defence Minister Manohar Parrikar and US Defence Secretary Ashton Carter signed the 'Logistics Exchange Memorandum of Agreement' (LEMOA) and said it will facilitate opportunities for "practical engagement and exchange".
Pakistan has not officially reacted to the deal but the daily said officials privately admitted that the Indo-US agreement could alter the strategic balance in the already volatile region.
Officials said the concerned authorities were looking into the details of the agreement and its possible negative fall interests as well as national security, the daily said. 
The Tribune cited sources who said that even though US officials have assured Pakistani authorities that Indo-US agreement would not hurt Islamabad's interests, background discussions with officials suggested that Pakistan was left unconvinced and considers the pact with great 'concerns and suspicion.'
The deal between Washington and New Delhi comes on the back of US blocking military assistance as well as funds to purchase of F-16 fighter jets to Pakistan. 
China, a strategic and military partner of Pakistan, has downplayed the pact as "normal cooperation". 
"We have noted relevant report. Hope that this cooperation between India and US would work to promote stability and development of the region," Chinese Foreign Ministry spokesperson Hua Chunying said in reply to a question about the deal. 
"For such normal cooperation between the two sides we are glad to see it happen," she said.
However, an editorial by state-run Global Times, which was written ahead of the signing of the agreement in Washington, warned that India's attempts to join US' alliance could "irritate" China, Pakistan or even Russia and bring "strategic troubles" for New Delhi.
"If India hastily joins the US alliance system, it may irritate China, Pakistan or even Russia. It may not make India feel safer, but will bring strategic troubles to itself and make itself a centre of geopolitical rivalries in Asia," it said.