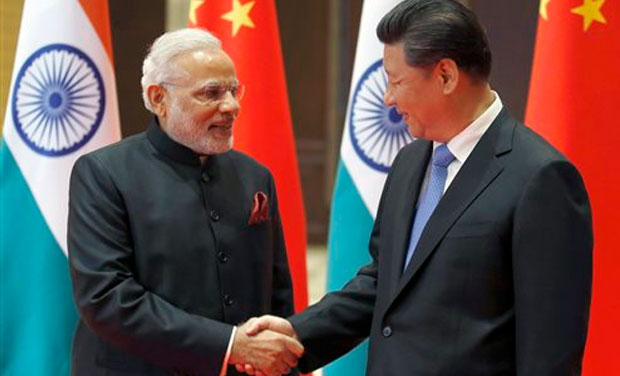 The state-run Chinese media has blasted western countries for 'bad mouthing' the five-member BRICS which consists of Brazil, Russia, China, India and South Africa. 
In an editorial titled 'West's bad-mouthing won't harm BRICS', the state-run 'Global Times' said that BRICS does not target anyone and that the disagreements among its members are minor issues. 
"Cooperation is the norm, and disagreements are natural," the editorial said.
The editorial further pointed out that BRICS member states have the potential to overcome obstacles as they have the advantage of  rich natural and human resources. 
"BRICS countries boast rich natural and human resources, huge markets and policy potential. As political stability expands in emerging countries, the late-developer advantage will help them overcome obstacles. It's almost certain that the BRICS countries will maintain a faster pace of economic development in the mid to long term compared with the developed ones," the editorial said.
The Goa summit shows continued progress of cooperation between the five countries, it said. "Western countries have always been skeptical toward non-Western international cooperation, and their opinions on the Goa summit are no different," it added. Since the establishment of BRICS, speculations of disunity among the countries and decline in their power have emerged one after another. However, the truth is that cooperation among the countries has continued to be strengthened and institutionalised," the editorial stated.
Even though growth in the emerging markets is slowing and Russia and Brazil have even witnessed a contraction, compared with the situation in the West, BRICS countries still hold comparative advantages for development, it said. "The West suspects that BRICS is an organisation against the Group of Seven, but this view comes from narrow-minded zero-sum mentality. BRICS countries all have their own objectives and problems to address, and cooperation, not confrontation, is the aim of their grouping together," it added.
The editorial said that no BRICS country shares exactly the same interests with the West, but they have no interest in uniting to confront the West. "Western countries are still the most powerful in the world, and BRICS countries attach great importance to their ties with the West. Even Russia, with fiercest disagreements with the West, won't shut the door to improve relations with the US and EU," the editorial said.
"The West should not view anything non-Western as anti-Western or simply take others' pursuit of interest as confrontation," it said. The world is diverse, and differences coexist and overlap. Confrontation is not the theme of the 21st century. The notion that the world has been split into G7 and BRICS is not only untrue but also misleading, and only breeds tension, it added. 
(With PTI inputs)