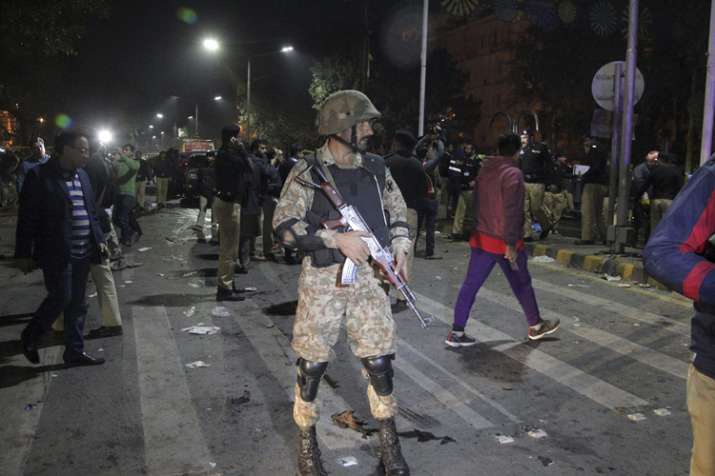 At least 13 people were killed and as many as 60 injured when a suicide bomber struck police escorting a protest rally outside the Punjab Assembly in Lahore on Monday.
A breakaway Taliban faction has claimed the attack. 
Local police official Ali Raza said blast ripped through the crowd of hundreds of pharmacists, who were protesting new amendments to a law governing drug sales.  
Six police officers, including a former provincial counterterrorism chief, were among those killed, police said.
DIG Traffic Lahore Capt (retd) Ahmad Mobin was also among those killed in the attack. 
Mobin was negotiating with the protesters to end the strike and clear the area when the blast occurred.
Police initially said the attacker was on a motorcycle, but provincial Law Minister Rana Sanaullah later said that closed-circuit footage revealed the bomber was on foot.
Sameer Ahmad, the Lahore deputy commissioner, said at least 13 people were killed and 58 wounded, including nine who were in critical condition.
Live TV registered a loud bang and showed smoke and fire billowing up as people ran away, some of them carrying the wounded.
"We just couldn't understand what happened," Tufail Nabi told local Geo News TV. "It was as if some big building collapsed," he said as he limped away.
A group called Jamaat-ul-Ahrar claimed the attack in a text message, saying it was revenge for Pakistani military operations against Islamic militants in tribal regions along the Afghan border.
The group, which claimed a number of large attacks last year, is one of several splinter factions from the Pakistani Taliban, which has repeatedly targeted security forces and religious minorities. In recent years, Pakistan has launched several offensives against the Taliban and other Islamic militants in the tribal regions.
Prime Minister Nawaz Sharif vowed to continue fighting terrorism "until we liberate our people of this cancer and avenge those who have laid down their lives for us."
Elsewhere in Pakistan, a roadside bomb killed two members of bomb disposal squad on the outskirts of the southwestern city of Quetta, said police officer Abdur Razzaq Cheema. Another eight people were wounded, he said. A Taliban-linked group, Lashkar-e-Jhangvi, said it planted the bomb.
(With AP inputs)