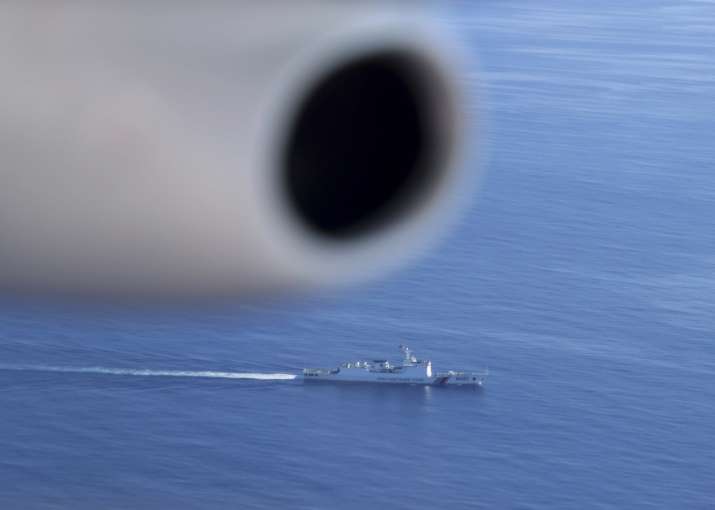 The Australian Navy's helicopters were targeted with lasers and its ships trailed during a passage through the hotly contested South China Sea earlier this month, according to an analyst who was aboard the warship from which the aircraft were operating.
The HMAS Canberra and the HMAS Parramatta were on their way to a joint military exercise earlier this year when a Chinese warship followed them, Euan Graham of the Australian Strategic Policy Institute wrote in a blog.
Graham told CNN he didn't witness the incidents, but Australian pilots told him they were targeted multiple times by commercial lasers during South China Sea missions.
According to ABC News, defence sources said the helicopters were targeted during night flights, forcing pilots to temporarily return to their ship for medical check-ups.
"Some helicopter pilots had lasers pointed at them from passing fishing vessels, temporarily grounding them for precautionary medical reasons," Graham said, adding none of the Australian ships passed through any sensitive area or feature occupied by Chinese military.
Australian military officials believe the laser attacks on the Navy helicopters came from fishing boats, but it has not yet been formally confirmed if the vessels were Chinese flagged, the report said.
Graham was aboard the HMAS Canberra, a helicopter landing dock and flagship of the Royal Australian Navy, as it operated in the South China Sea and the Indian Ocean on a three-month mission that ended this week.
Australian military officials told CNN they were looking into Graham's report.
Beijing maintains a robust maritime militia in the South China Sea, composed of fishing vessels equipped to carry out missions just short of combat. At sea, fishermen are known to use lasers to warn off other vessels that may be getting too close to them.
"That makes sense for collision of vessels, but obviously there is no direct threat from aircraft to vessels in the South China Sea," Graham said. "The maritime militia is, I think, not beyond argument as a tactic that is employed deliberately."