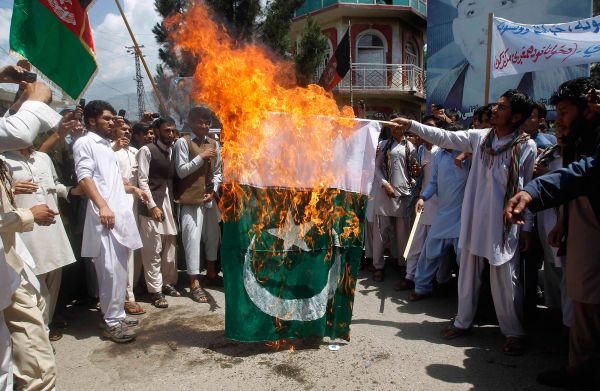 On their Independence Day , a large number of people from Afghanistan assembled at their border with Pakistan in Chaman  and burnt the Pakistani flag to express their solidarity with India on Friday.
According to a report in The Dawn, the angry Afghans also pelted stones at the Friendship Gate, smashing windowpanes of several government departments. They were also carrying placards and banners inscribed with anti-Pakistan slogans.
The Afghans had assembled at the Chaman border to celebrate their 97th independence day. They noticed that some Pakistanis were staging a protest against Indian Prime Minister Narendra Modi for his remarks about Balochistan.  They were reportedly incensed by demonstrations in Balochistan sparked by Indian PM Narendra Modi's speech on August 15.
The Afghan demonstrators snatched the national flag from a Pakistani protester who stood close to the Friendship Gate and set it on fire.
Afghan border forces reportedly did not stop the people on their side from throwing  stones at the border crossing gate which forced Pakistan's Frontier Corps (FC), a paramilitary force, to close the border to avert any untoward incident.
A day earlier, Afghanistan President Ashraf Ghani had drawn the attention of Pakistani leaders to a poem written by philosopher-poet Allama Iqbal, who had linked peace in Afghanistan to peace in Asia.
"Our message to Pakistan is strong. Our message to Pakistan is state-to-state. We will not give up our national interests. Our relations should be based on national interests," Ashraf Ghani had said during an event organised to celebrate their 97th independence day.