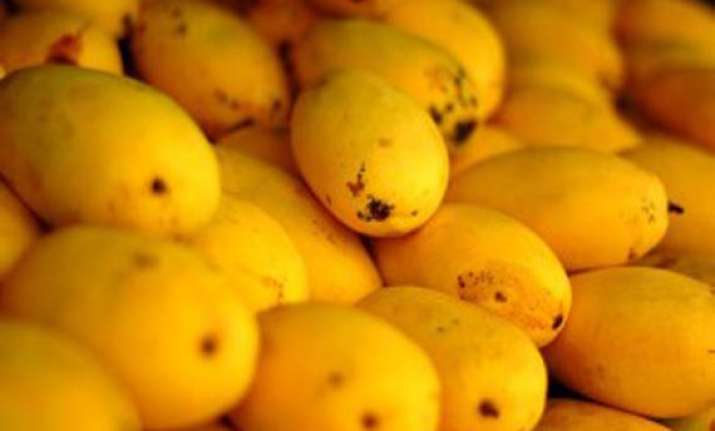 New Delhi, Jun 29: A woman today ate over 1.5 kgs of mango pulp in 3 minutes to take home the first prize in the women's mango-eating competition here as the second day of the Delhi Mango Festival came to a 'fruitful' end, organisers said.
"Anita Chaudhary gulped 1526 gms of mango pulp in 3 minutes and won the first prize of Rs 3000, while Pinky Chawla and Dimple Gambhir jointly won the second by consuming 1290 gms. Krishna was adjudged the third prize winner who ate 1230 gms," a Delhi Tourism statement said.
The festival celebrating its silver jubilee this year opened yesterday at Dilli Haat Pitampura has over 500 varieties of mangoes to choose from. It was visited by around 20,000 people today.
The varieties include -- Dussehri, Langra, Chausa, Rataul, Husnara, Ramkela, Alphonso, Kesar, Safeda, Fazli, Tota Pari, Vanraj, Sirki, Suwarn, Jahangir, Mallika, Amrapali. Neelam, Bangan Palli, Bombay Green and Aishwarya, among others.
Apart from the traditional mangoes, the festival also has organic mangoes on display, which attracted one and all. Umakant Tiwary from Nizampur, Pachgahana, Hasanganj Unnao, said that "Homa therapy (ancient practices from the science of Ayurveda) is a god-gifted knowledge to cure the atmosphere and the cured atmosphere cures the human beings, animals and plants."
The festival on its last day tomorrow, will alsofeature events like slogan writing competition, mango quiz contest, band performance, magic show among others.  Ten institutions and other private partners from Delhi and other states have participated in the festival.
Mango-eating competition for men will be the highlight of the concluding day of the 25th Mango Festival.