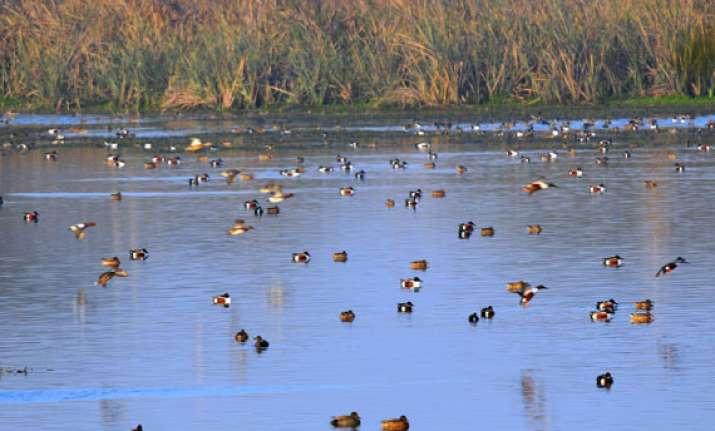 New Delhi: If you are planning to visit Okhla Bird Sanctuary and Yamuna for bird watching, you may return disappointed.
All you have to do, instead, is to visit Najafgarh drain where you will find various species, including residents and migratory birds. Najafgarh drain has become the favourite destination for birds.
An Annual bird census shows that birds are not flocking the Okhla Sanctuary and Yamuna River, instead they are moving towards Najafgarh Drain where the number of species has unexpectedly increased in the last three years.
Census only found 23 species in 2012, but this number went up from 38 in 2013 to 50 species in 2014 due to favourable atmosphere and no human disturbance along the drain.
Among the species that are flocking to Najafgarh Drain are Northen Pintail, Bar-headed Goose, Graylag Goose, Spot-billed Duck, Common Teal, Coot, Gadwal, Eurasian Wigeon and Eurasian Spoonbill.
These species have made their habitat near Chawla area where drain water flows as flat as canal.
Okhla Bird Sanctuary, created on 1990, on the other hand has witnessed decreasing numbers of species, including residents and migratory birds - with 57 species in 2012 following by 63 species in 2013 and 58 in 2014.
Similarly, Yamuna, which flows in 22 km in length in Delhi, has witnessed less numbers of species- four in 2012, seven in 2013 and 23 in 2014.
"Despite sewage water, birds are flocking to Najafgarh drain in a large number as there is not much human disturbance, that's why residents and migratory species are making their habitats there," said T K Roy, a team member of Asian Water Census.
Roy said the reasons behind the less numbers of species in Okhla Bird Sanctuary are human interference, cattle swimming in water and fluctuation of water level with UP irrigation department releasing excess water from the barrage, drying up their habitat, affecting arrival and survival of water birds.