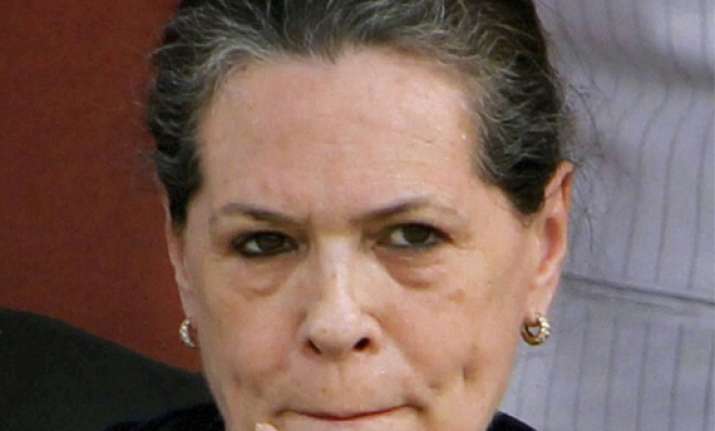 Rae Bareli, Feb 14: Congress president Sonia Gandhi today said the Centre gave Rs 1 lakh crore to Uttar Pradesh government during the last five years, but most of it went to line the pockets of corrupt politicians.

Addressing an election rally in her constituency Rae Bareli alongwith her daughter Priyanka, Sonia Gandhi asked: "What happened to Rs 1 lakh crore the Centre gave to UP?  We gave Rs 20,000 cr under MNREGA, Rs 9,000 cr under National Rural Health Mission and Rs 8,000 cr under Pradhan Mantri Gramin Sadak Yojana. What happened to the money?"

"Most of these money were siphoned off in scams and the people of the state were cheated", alleged the Congress president.

Sonia Gandhi alleged that the people of Amethi and Rae Bareli were deliberately cheated by the BSP dispensation during the last five years.

"They created so many obstacles one by one for projects in Rae Bareli. We wanted to build an AIIMS type hospital here and the state government refused to give land", Gandhi said.

"The aam aadmi did not get justice in UP and the poor people's grievances were not heard. All the parties that ruled UP for the last 22 years had nothing to do with development", she said.

The Congress president said, she felt sad on seeing the plight of the state. "This  state developed in the past because of its association with Nehruji, Lal Bahadur Shastriji, Rajivji and Indiraji, but the people today are yearning for development".

"The whole world knows the relationship of Rae Bareli with our family, yet the BSP government discriminated against the people of this constituency", Gandhi said.

Earlier, Priyanka Vadra addressing the meeting exhorted the voters to come out of darkness and vote Congress to march towards development.  She shouted the slogan, Uthenge, Jagenge, Badlenge  ( We Will Wake, Arise And Change).