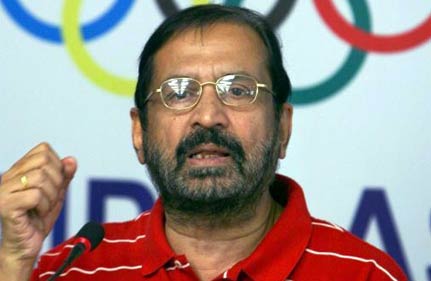 New Delhi, Nov 17: The Commonwealth Games corruption probe is gaining steam after the arrest of two former Organising Committee officials but an unfazed OC chairman Suresh Kalmadi today said he would give "satisfactory answers" to the government panel investigating the matter.
Kalmadi, who has maintained a low profile ever since the controversy-ridden Games concluded on October 14, said that the VK Shunglu committee has been entrusted with the task of probing the entire Commonwealth Games and not only the Organising Committee.
"We can answer all the questions satisfactorily. Our job was to conduct the Games and we have the answers to anything related to that," Kalmadi told PTI from Guangzhou, where he is attending the 16th Asian Games.
Former Comptroller and Auditor General VK Shunglu was appointed as the head of the committee to probe the corruption allegations that marred the build-up to the mega-event here.
Kalmadi emphasised that the Organising Committee was not responsible for the all the construction and other works for the Games.
"The Organising Committee was responsible for Rs 1800 crore. We had no role in constructions and the work at the stadiums. We can only answer for these Rs 1800 crore," he said.
Kalmadi said that the international delegates, who are here for the Asian Games, have praised the conduct of the Commonwealth Games as well as the opening and closing ceremonies.
On the arrest of two of the former OC members -- TS Darbari and Sanjay Mohendroo -- in connection with alleged financial bungling in the Queen's Baton Relay, Kalmadi said that both of them had been sacked by the OC.
"The Organising Committee has already taken action against them after reports of corruption. The OC CEO (Jarnail Singh) has already terminated their services," he said.
Kalmadi also hailed the performance of gymnast Ashish Kumar, swimmer Virdhawal Khade and wushu player Bikramjit Singh -- all three of whom bagged historic bronze medals during the Asian Games.
"After a gap of 24 years, we have won a medal in swimming. We have won a medal in gymnastics for the first time. In wushu also we have done well, it all goes to show that other sports are also coming up in India," Kalmadi said.
Ashish became the first Indian gymnast to clinch an Asian Games medal by securing a bronze in the Men's Floor event of the Artistic Gymnastics.
The 19-year-old Khade scripted history by becoming the first Indian swimmer in 24 years to clinch an Asian Games medal by notching up a bronze in the 50m butterfly event.  PTI