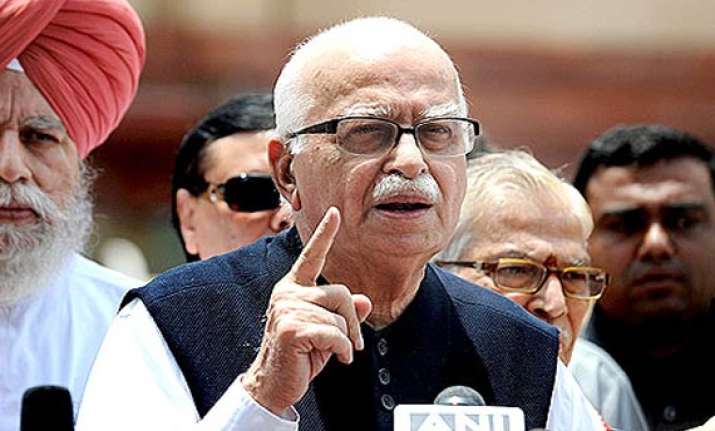 New Delhi, Dec 3:  Accusing the government of creating  political uncertainty by its actions, senior BJP leader L K Advani today attacked the decision to allow FDI in retail saying his party cannot ignore the huge constituency of millions of retailers.

Addressing the HT Leadership Summit here, he said no one can predict whether the government would last its full term or fall before 2014 because one cannot speak about accidents. 
Maintaining that his party has always opposed FDI in retail, Advani said that the opposition was saddened by the paralysis of Parliament but they were surprised by the timing of the government's decision.

"I see no reason why government decided this (FDI) knowing fully well that a large section of people will get affected.
To give an impression that FDI in retail will solve all problems like inflation, price rise, unemployment...  whosoever is saying this is fooling people that FDI will get millions of jobs. It cannot happen," he said.  "A huge number of people will be displaced from jobs. The Bharat Bandh this week was successful as never before this time," he said.

"Similar tall claims were made three years ago at the time of the Indo-US nuclear dea. It will solve the problem of India's acute power shortage, government leaders said in Parliament.

"I want to ask the Prime Minister on how many new nuclear plants has work begun in the past three years? How much nuclear power will be generated on a reasonable basis in the next ten years?" Advani said.

Asked in a question-answer session why the BJP was has changed its stand on FDI after promising 26 per cent FDI in retail in 2004 general elections, Advani said the BJP had always opposed the entry of FDI in retail and that he did not remember how the issue of allowing FDI came up in the NDA document.

"There could have been some sections...," he said apparently suggesting that some alliance partners could have been behind it.

"So far as we are concerned, we think the retail in the country is a huge constituency. In this country, so far as retail trade is concerned, you cannot disregard this huge constituency," he said.

About the 2004 promise, he said, it had been brought to his notice but in the past, his own recollection was that BJP's own stand on FDI in retail that it has been always been opposed to it.

"I don't recollect how this NDA document came up. In 2009, it was discussed and the party decided we will continue opposing it. That is the considered view of the party," he said.

On the Parliament paralysis, he said that BJP has been very practical that Parliament does not get disrupted. In fact, it was preparing for a discussion on price rise to be initiated by CPI MP Gurudas Dasgupta and followed by the one on black money to be started by him. 
"This FDI came up and everything has gone awry. It has not been easy for us to understand why all of a sudden FDI decision was brought," he said adding different people say different reasons like Anna Hazare saying it was brought to scuttle the Lokpal Bill.