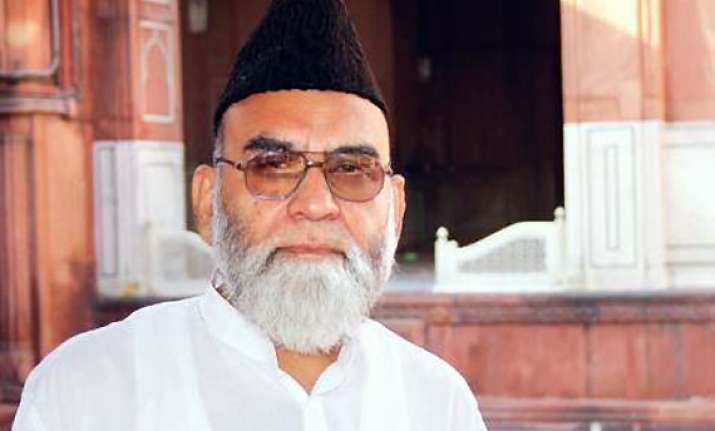 Lucknow, Jan 28: Alleging the Congress was mainly responsible for the poor state of Muslims in the country, Shahi Imam of Delhi's Jama Masjid Maulana Ahmad Bukhari today appealed to Muslims to vote for Samajwadi Party candidates in the upcoming Uttar Pradesh assembly election. 

In a joint press conference here with Mulayam Singh Yadav, Bukhari said the SP chief had promised him that his party would work for betterment of Muslims in the event of its coming to power in the state.

Therefore, Muslims should ensure victory of Samajwadi Party candidates, he said.

"During several rounds of meetings with me, the SP chief has promised me that he will ensure justice to Muslims.  "I appeal to the community and those with the secular mindset to ensure victory of SP nominees in the state assembly election," Bukhari said.

He alleged the Congress was mainly reponsible for the poor state of Muslims in the country.

The Mayawati-led BSP had also nothing for Muslims, Bhukari said.

To expect anything from the BJP for improving the lot of Muslims was a futile exercise, the Imam said.  On his part, Mulayam said "I will try to prove myself worthy of the expectations of Muslims and Imam Saheb."

On Mulayam shaking hands with former BJP leader Kalyan Singh, a leading light of the Ayodhya movement, Bukhari said the SP president had apologised for that. 

"Therefore, we should forgive him," he said.  On 4.5 per cent reservation for minorities, the Imam said "the move will lead to struggle in society and promote casteism."

Bukhari said instead of religion, he favoured reservation to Muslims on the basis of backwardness.  Quota should also be given to them on population basis, he said.

The Imam said during the SP regime jobs were given to 14.6 per cent Muslims in police department. 

On support to the Centre, Mulayam said as the SP could not support the BJP, it had to support the Congress out of compulsion.