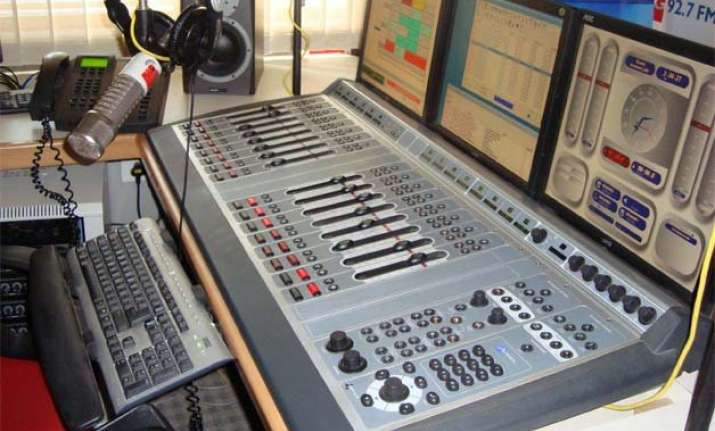 New Delhi: He is a radio jockey, he is also a television anchor. He is a journalist and a creative writer too, apt at penning radio jingles and advertisement scripts.  Besides he is both a poet and a musician.  
Kamal Kumar Prajapati wears many hats. What's amazing is the ease at which he juggles them, performing many roles, often the same day. And what is astonishing is the fact that he has been able to achieve these feats despite being visual impairment.
In fact, despite his physical limitations, Prajapati who is in his early 20s has gone on to breach many conventional human boundaries.
A History graduate from Delhi University's St Stephen's, Prajapati is now a freelancer radio presenter with a community radio called Apna Radio stationed at Indian Institute of MassCommunication, New Delhi.
Besides writing and composing radio ads, jingles and promos, he is also freelance on-stage programme compere for shows of various non-government organisation.  
A meritorious student, Prajapati had his schooling from the National Institute for Visually Handicapped in Dehradun which provided him special education.  But he did not allow his visual impairment stop from living out his dreams.
Even during his schooling he had participated in various extra-curricular activities of both ordinary and extraordinary types.
His ordinary pursuits included singing along with his normal schoolmates, playing chess with them and debating a plethora of issues threadbare in the school elocutions.  While competing with students of schools, he emerged extraordinary winners many times representing the state in these activities. These include winning national championship for braille and state level championship for debate, each thrice.
A regular participant at the All India Radio Programmes at the regional centre of Nazibabad during his school days, Prajapati ended up falling in love with the radio.  "I loved playing with sound and so took part in various AIR programmes, which got me interested in radio," says Prajapati.
After completing his graduation in History he enrolled in a Radio and Television Journalism course at IIMC.  
"I always wanted to become a Radio Jockey since my childhood days. I thought that people now-a-days indulged so much in the audio-visual medium that reaching them through writing would be difficult. I wanted my voice to reach the masses," says Prajapati, explaining his choice of the audio-visual medium.
Prajapati anchored a show 'Aankhen Kholo India' on a private news channel. It dealt with the social issues but he soon left it to live his own dream.
"I was very comfortable with the camera and the studio.  But I was not getting the freedom and thats when I decided to quit my job even after getting great response from various fronts," says Prajapati.
Apparently being an artist by heart, Prajapti has intense love for poetry and music.
He writes, composes music for songs and also plays the piano.
Earlier he had started a band named 'Aavartan' performing widely in the different colleges of Delhi University. The band was an amalgamation of normal and physically challenged students.
"I did not try for the private radio channels because I want to express myself. I want that journalism, social causes and my dream to go hand in hand and so I want to go for All India Radio," says Prajapati Along with his work at Apna Radio as a radio presenter for live and recorded programmes, Kumar is also working as a freelance anchor for different NGOs.
He is a single man army when it comes up to the composing of Radio Jingles, Ads and promos.
Alongside, he has also been composing audio documentaries raking up social issues like child labour, street vendors etc.  "I write the copy for the ads, compose the music, give the voice over and do the editing work. So right from pre-production to post-production," he adds.  
He has got an avid knowledge of various sound editing softwares like Cool Edit Pro, Adobe Audition, Sound Forge etc.  He thanks his school for making him tech savvy to match up with the pace of the technology.
Prajapati has a collection of poetry which he wants to publish. "I love writing poetries and so I would be elated if they are published in the form of a book," he says.