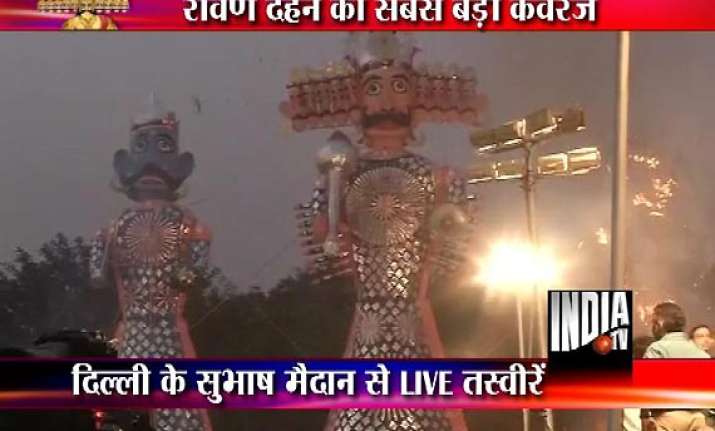 New Delhi: Vijayadashami, or Dussehra, was celebrated with fanfare across most of the metros and towns of northern India today.
President Pranab Mukherjee, Vice President Hamid Ansari, Prime Minister Manmohan Singh, Congress President Sonia Gandhi with daughter Priyanka and son-in-law Robert Vadra attended a gathering at Delhi Subhash Maidan, where the effigies of Ravana, Meghnad and Kumbhkarana were burnt.
The day marked the victory of Lord Rama over the demon Ravana, and the festival symbolizes the victory of good over evil.
In Ahmedabad on Sunday morning, Gujarat chief minister Narendra Modi performed "shastra pooja" (worshipping of weapons) with state policemen.
In Nagpur, RSS chief Mohan Bhagwati gave his traditional Vijayadashami speech at a rally attended by hundreds of RSS volunteers.
Vijayadashami was also celebrated in Chandigarh, Jaipur, Lucknow, Shimla, Bhopal, Patna and other cities.