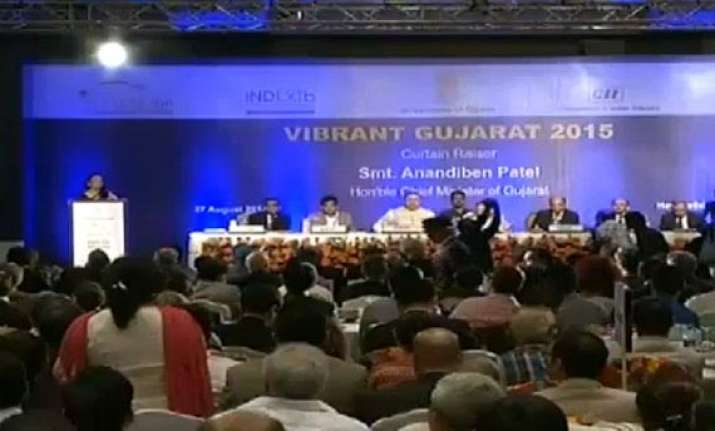 New Delhi: Prime Minister Narendra Modi will inaugurate the seventh edition of the Vibrant Gujarat Global Summit, an event he conceptualised as the chief minister to attract global investors to the state.
The Prime Minister's Office "has kindly consented for the presence of the honourable PM at the inauguration", Gujarat Chief Minister Anandiben Patel said at the curtain-raiser event of the summit here today.
The biennial event will be held between January 11 and January 13, 2015 at Mahatma Mandir in Gandhinagar. Patel also extended invitations to more than 1,000 industrialists, diplomats, captains of Indian Industry and other Indian states to partner and participate in the summit.  
With Gujarat contributing 7.5 per cent of the country's GDP, the chief minister hoped to have a bigger role for her state in the Indian economy.
"Today Gujarat accounts for more than 7.5 per cent of India's GDP, 18 per cent of India's fixed capital and 25 per cent of India's exports. Gujarat is thus playing a big role in the Indian growth story.
"We envisage a bigger role for Gujarat as Indian economy grows under the able leadership of our Prime Minister Narendrabhai Modi. In fact, the global community and the industry too will have a much bigger role in taking our economy and social wellbeing to a higher level," she said.
Patel said the event, which started in 2003 to showcase investment opportunities in the state, has now become a major global networking event.
"To make the pie bigger for everyone we started Gujarat Summit in 2003 and thereafter it has been institutionalised as a biennial event... Today Vibrant Gujarat provides a worldwide platform for knowledge sharing and social and business transformation," Patel said.
The summit's seventh edition has seven partner countries - Australia, Canada, Great Britain, Japan, the Netherlands, Singapore and South Africa.
Highlighting the importance of the summit, Patel said in the 2015 edition, the government was giving considerable thrust to social sectors including health, education, women empowerment and specialised areas such as innovation and climate change.