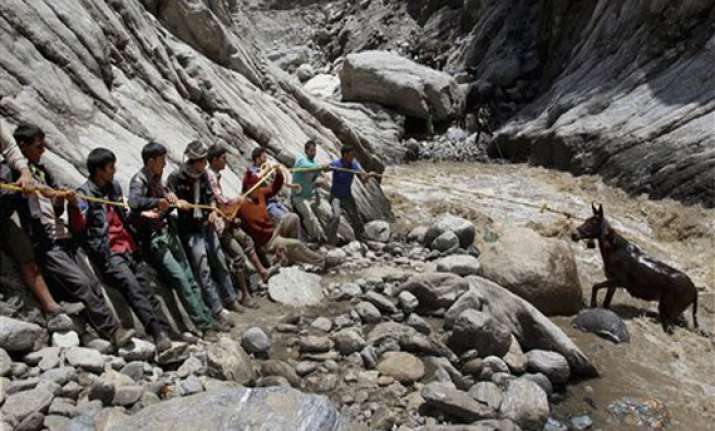 New Delhi, June 22 :  After being stranded for days without food on a small stretch of hilly road that did not cave in, a Rajasthan trader made it to safety Friday with tales of human endurance and chilling details of nature's fury that unleashed death and destruction in Uttarakhand.
The 36-year-old Vinod Kumar Sharma's story was reinforced by details from Hindu activists who said that many lives could have been saved if only the massive rescue operation now underway had begun right after the torrential rains and cloudburst of last weekend.
Sharma, who hails from Rajasthan, was camping at Ram Bada after visiting the Kedarnath shrine when a sudden burst of very heavy rains swept away virtually everything including people, mules, houses, hotels, shops and mountainous roads. The government hotel he was in disappeared in no time.
Guided by instinct, Sharma and his family made it to a small stretch of road where eventually about 150 people took refuge, braving the rains that drenched them the first night and hoping for an early rescue.
"After a while most of us managed to take shelter in two huts that were still intact in the hills," Sharma told IANS soon after he was rescued and he reached Dehradun. "We spent one night there. The next day, boulders suddenly came crashing from the mountains, killing two people instantly.
"We fled to safety... We were now caught in the open, praying that there would be no more tragedies... We had no food. We managed to light a fire to cook grain meant for cattle. The third day we had no food.
"Believe me, there were bodies all around the place where we had taken shelter. They had begun to rot. It was impossible to bear the stench," the trader said.
Sharma and the others saw helicopters passing over Ram Bada, and wondered why no one was rescuing them even though they were frantically waving their clothes. He did not know then that the choppers were headed towards Kedarnath, which had suffered the worst destruction.
Chandragupta Vikram, the Dehradun president of the Vishwa Hindu Parishad (VHP), told IANS that human life was obliterated in Kedarnath "within just 15 minutes".
"There was a huge explosion," Vikram said. "It happened behind the Kedarnath shrine. It turned out to be a cloudburst. Suddenly the place was overwhelmed by water.
"With the water came huge boulders and tonnes of mud. It took just 15 minutes for the destruction at Kedarnath."
Sharma and others in Uttarakhand told IANS that the death toll in the disaster was bound to be much more than the officially admitted 200-plus.
According to them, there were at least 15,000 people including locals as well as pilgrims besides hundreds of mules in Kedarnath when the calamity took place.
"Barring some, there is no trace of the people and animals," Sharma said. He added: "As of today no one can give a precise figure of the dead and missing. It is impossible."
Vijay told IANS from Rudrapryag, 85 km from Kedarnath, that the rescue operation going on now should have started immediately after the disaster.
"In the beginning, the state government didn't even come to terms with the tragedy."
Both Sharma and Vijay said the army and other security forces were doing a great job against tremendous odds.
"Many survivors got food from villagers," Vijay said. "Unfortunately, many of the food packets air-dropped fell into rivers and in the hills.
"For days, many people were stranded in the hills, hungry and shivering."
"I wish the administration had woken up days ago. Many lives would have been saved."