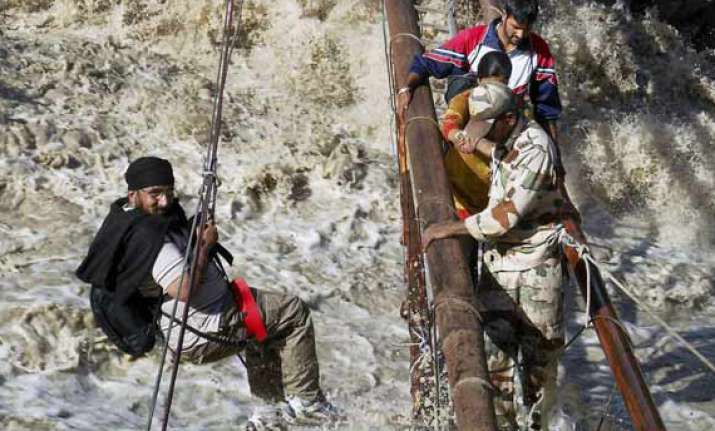 Badrinath/Kedarnath/Guptakashi, Jun 24: Late-night and early morning showers in Gauchar, Harsil, Dehradun and Guptakashi on Monday hampered fresh rescue efforts with the met department predicting that heavy rains may occur within the next 24 hous.
No early morning stories took place from Dehradun because of inclement weather. On Sunday, nearly 12,000 stranded people were rescued by air and road, with another 10,000 still waiting for rescuers to reach them.
Tuesday and Wednesday seem to be crucial, as heavy rains could lead to more deaths, with the unofficial death toll presently hovering around 5,000.
Uttarakhand chief minister Vijay Bahuguna, facing strident charges of incompetence and negligence, has put the official death toll at 680 with 123 bodies recovered from Kedarnath. Bahuguna says, the final toll may touch 1,000.
Today's focus of rescue operations will be on Harsil, where nearly 2,000 survivors are staying in temporary camps erected by the army. Also, the focus is on Badrinath, where nearly 8,000 pilgrims are still stranded, while Kedarnath and Junglechetti have been totally cleared of stranded pilgrims.  12,000 people were evacuated from Junglechetti alone on Sunday.
Around 100 pilgrims are still stranded in Gaurikund, with nearly 125 evacuated on Sunday. All Sikh pilgrims taking shelter in two gurudwaras near Shri Hemkunt Sahib have been evacuated and they are on their way back to their hometowns.
The National Disaster Response Force deployed its Unmanned Aerial Vehicle 'Netra' to help locate survivors in flood-affected areas. NDRF DIG S S Guleria said, the UAV will operate from Monday to ensure all survivors are located and eventually evacuated.
A total of 83 aircrafts, 45 from IAF, 13 from Army and 25 from state government have been deployed for rescue operations. The local police has reached Kedarnath and Gaurkund, and the process of identification of dead bodies has begun, claim official sources.
In Dehraadun, distraught relatives clutching photographs of their missing family members have been waiting for days outside the airport in Dehradun, hoping for news of their loved ones.
BSNL has provided free phone facilities at its telephone exchanges and control rooms to enable stranded survivors to contact their families,  75 imported satphones are being used by rescue agencies.