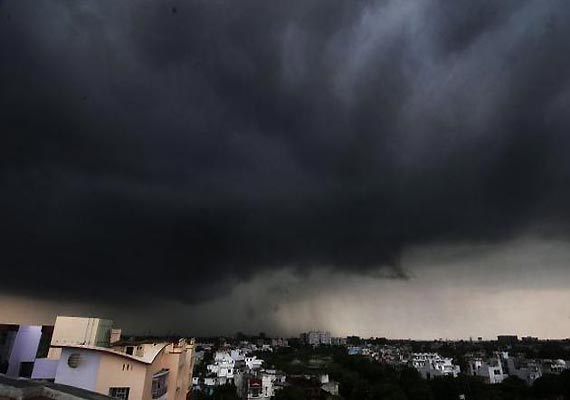 Dehradun, Jul 23: Moderate to heavy rains in most places in Uttarakhand today triggered fresh incidents of landslides, cloudbursts and house collapses across the state. 
A road that led to a school building was damaged due to a cloudburst in Gadoli village at Pauri district, where intermittent rains continued to affect normal life.  
However, there was no report of any injury, officials said.
Incessant overnight rains in Chamoli district caused fresh landslides at a number of places, including Deval where two vehicles parked along the roadside got buried under the debris, they said.
Several houses were hit by mud and slush brought over by the landslides at Gauchar.
Cracks have appeared in at least 14 houses in Deosari village, forcing their occupants to seek shelter at safer locations nearby, the officials said.
Intermittent rains in Chamoli district have also affected transportation of food grains to affected villages as choppers could not fly for the second consecutive day today due to low visibility conditions.
Bhagirathi river in Uttarkashi is on the rise due to heavy rains, whereas Badrinath, Gangotri and Yamunotri national highways are blocked at several places due to debris falling over from the hills.
Parts of a house collapsed due to overnight rains at Raiwala. However, no one was injured as its occupants were away when the incident occurred.
Rain water gushed into an Aanganbadi Kendra in Sunderwala area, prompting authorities to close it for two days.  
Meanwhile, accusing the Vijay Bahuguna government of being in a "state of slumber" even after the June calamity, BJP leader and former chief minister B C Khanduri said hundreds of precious lives could have been saved if the authorities had responded to the situation in time.  
"First the state government ignored the MeT office warnings of heavy rains on June 14 and then it slept over the tragedy which occurred on June 17 leaving hundreds of helpless pilgrims to fend for themselves and perish," he told reporters here on his return from a visit to affected areas.