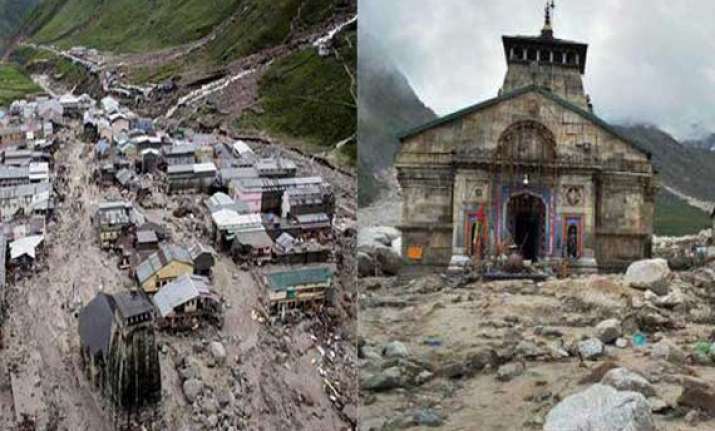 Deoli, Uttarakhand: On this very day last year, "god's own land" as the hill state of Uttarakhand is called, faced the worst fury of nature which left several thousand people dead and widespread devastation in rain-triggered floods.
The ones who died have gone by. But life has become difficult for the families of the dead and the ones who have managed to survive the tragedy, as they are left with no source of livelihood.
Most of the men from Deoli village who died in the floods were either priests, hoteliers or porters - the bread winners of the families who are dependent on the pilgrimage season.
The ones who have survived are so traumatised that they are terrified to go back to Kedarnath temple, 30 km away, and work.
Rikhuli Devi's eyes still well up when she talks about the fateful day when she lost her son.
Speaking to IANS, Devi said: "My son died at Kedarnath. He was a 'pandit' (priest). For his death we got money, but what will my two grandsons do? There is nothing left for them to do, everything has been washed away."
This story is not only of Rikhuli Devi, but of Maya Suri, Sangrami Devi and many more who inhabit this village in Deoli Bhanigram, which is rather sadly called "Village of Widows", where 57 men lost their lives.
"My husband was taken by the river in Kedarnath. I have kids to look after and do not know what I will do. The six months that he used to earn at Kedarnath temple used to be enough for our family, but now I do not know what is in store," Maya Suri, a resident of the village, told the visiting IANS correspondent.
Many who have survived say it would have been better if they too had been taken away by the floodwaters, than living a life of penury.
"I was at Gaurikund when the flash floods came. Hungry for five days I walked and reached home. I used to carry people to the Kedarnath shrine. Thinking about that day still gives me shivers and I feel weak," Govind Prasad, a resident of Pithora another village in the gram panchayat, told IANS.
There are many like Prasad in this village who admit that the scenes of devastation and death of a year ago still haunt them, and every time there is a small thunder lightning they want to run away.
"By god's grace I did not lose anybody, but my bread earning son Prakash has been sick since then. He gets terrified at everything and hardly talks," Rukmani Devi, 72, told IANS.